Big west swell bombards round two at Teahupoo - "Lopez bros on a roll"...


Cory Lopez in the slot @ Teahupoo, for a near perfect opening ride...

TEAHUPOO (Cheo-pu) edged towards its dangerous best today as the Billabong Pro Tahiti continued its march hunting a result, with a new west swell kicking in for the sudden death round two heats of the Foster's Men's World Tour event. Solid 2m (4-6'++) slabs of water, with some bomb sets from the west, saw conditions become critical on the end section as surfers tried to escape from the wrapping barrel.
As usual the Foster's Men's World Tour Top 45 matched the spectacular waves with the commitment and skill that you expect from the world's best. It was an awesome Teahupoo day and the best is yet to come, with a fresh south-west swell pushing 3m expected for the final two days of competition.
The round two heroes were many and varied in the challenging conditions, but one of the undisputed kings of this incredible wave, Cory Lopez, was the day's most consistently brilliant performer.
There's not a whole lot to Florida's 5'10"150lb younger version of the Lopez brothers, in fact you might even call him a bit on the skinny side, but for what he lacks in meat and mass, he makes up for with heart beat and bravado.
Bagging the enviable scores of 9.7 and 9.23 in the first four minutes of his round two heat of the Billabong Pro Tahiti against Toby 'Murderer' Martin, Cory continued his ride further into the ASP's pro surfing history books as the man to beat in Teahupoo's thunderous caverns. Yes, we call his opponent Murderer, or Murdz, for the chilling gazes he is capable of, but today, sorry, Dee Why's Murdz got murdered.

With eight minutes remaining Lopez added insult to injury throwing away his 9.23 after an unbelievably deep, long and critical run along the reef, coming out after the fire-hydrant wave spit. He scored a 9.93 to amass a heat score of 19.63, not just the highest of the day and the event so far, but just 0.3 from the record of the highest ever two-wave heat score in ASP annals.

Lopez also went back to back with his elder brother Shea who won the preceding heat in the dying seconds of his showdown with Australia's Richie Lovett. The Lopez bras are on a roll.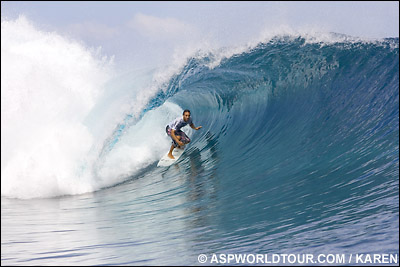 Shea Lopez - gaining momentum, surfs into Round Three
"I took the momentum off my brother's win," said Cory. "I'm stoked! I guess I just got lucky starting off the heat with two nines so quickly".

"It's perfect out there, and you've just got to know which ones to pick, and luckily I picked a couple of good ones. The 9.93 finish was pretty unreal. The wave just bottomed out and drained perfectly off the reef".

"A lot of the bigger ones haven't been that hollow, but that one hit the reef perfectly, and held up, and held up, and hit the inside shelf and drained really square. It was perfect and I just came right out."

READ THE COMPLETE STORY...
ASP World Tour http://www.aspworldtour.com/ -or- Surfer's Village http://www.surfersvillage.com/news.asp?Id_news=16777

(From Paul Sargeant)
ENDS
ROUND TWO RESULTS:
(1st>Rnd 3; 2nd=33rd, 225pts & usd$3600)
H 1: Trent Munro (Aus) 15.00 def Manoa Drollet (PYF) 11.00
H 2: Damien Hobgood (USA) 17.10 def Liam McNamara (Haw) 7.17
H 3: Hira Teriinatoofa (PYF) 16.74 def Luke Egan (Aus) 4.77
H 4: Daniel Wills (Aus) 14.33 def Renan Rocha (Bra) 13.77
H 5: Mark Occhilupo (Aus) 15.57 def Kirk Flintoff (Aus) 14.90
H 6: Tom Whitaker (Aus) 18.23 def Tim Reyes (USA) 16.63
H 7: Chris Ward (USA) 17.80 def Luke Stedman (Aus) 11.50
H 8: Shea Lopez (USA) 14.54 def Richie Lovett (AUS) 12.90
H 9: Cory Lopez (AUS) 19.63 def Toby Martin (AUS) 4.27
H 10: Lee Winkler (AUS) 16.86 def Sunny Garcia (HAW) 14.33
H 11: Tim Curran (USA) 15.17 def Troy Brooks (AUS) 7.00
H 12: Travis Logie (RSA) 19.07 def Phil Macdonald (AUS) 14.10
H 13: Dean Morrison (AUS) 18.83 def Greg Emslie (RSA) 8.77
H 14: Victor Ribas (BRZ) 15.10 def Jake Paterson (AUS) 10.93
H 15: Fred Patacchia Jnr (HAW) 18.37 def Shane Beschen (USA) 16.16
H 16: Neco Padaratz (BRZ) 18.83 def Bede Durbidge (AUS) 17.37
Distributed by Lopez Management
www.lopezbrothers.com