---


Cory Lopez Facebook | Cory Lopez Facebook Fan/Athlete Page | Cory Lopez Twitter
Cory Lopez Instagram | Official Lopez Website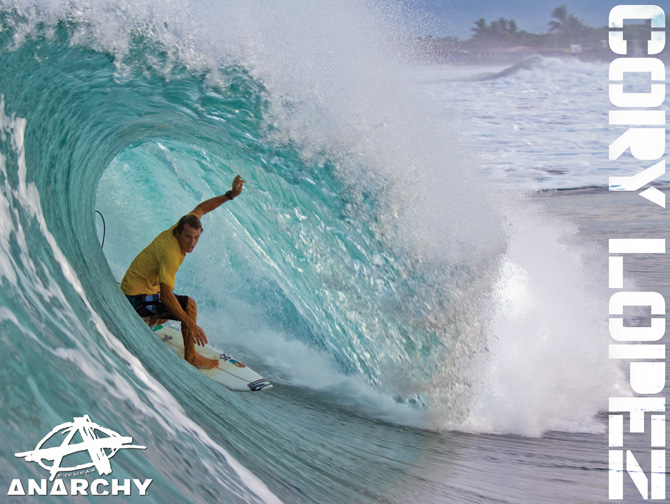 Cory Lopez; he's in the best shape of his life and not slowing down.
Check-out the new Anarchy Poster and other updates posted on Cory's website:
www.lopezbrothers.com
---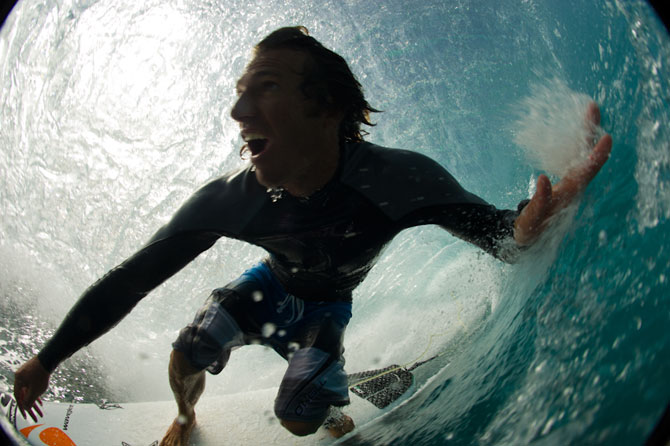 Cory Lopez - Team WaveJet Propulsion (Jet Blur-Barrel Vision). Photo: Lugo
---
STAB Mag Digital Version - Cory Lopez Feature Interview...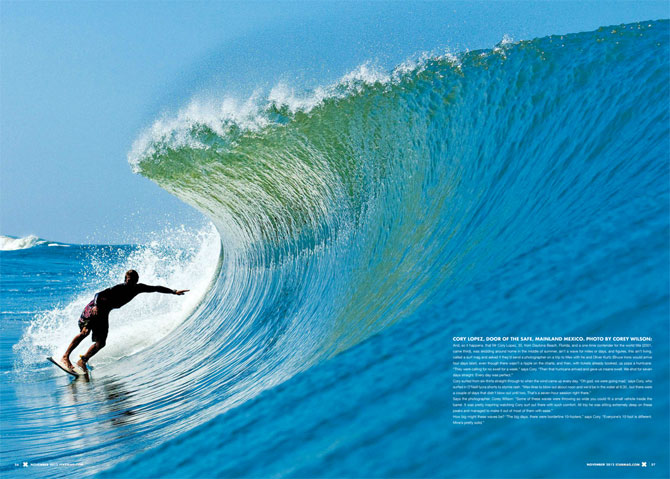 (CLICK FOR LARGER VERSIONS)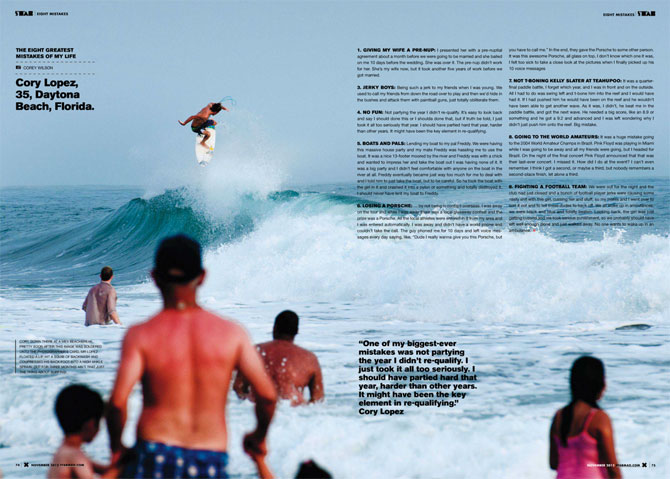 ---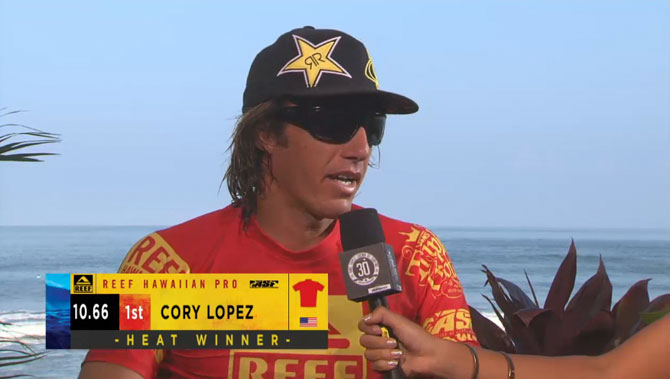 Cory Lopez Interview: Round of 32 Heat Winner; Reef Hawaiian Pro,
besting Kelly Slater for Quarter Final Finish
---
Sandy: A Swell for the Books | The Inertia
---
Cory and Friends Score Perfect South Florida,
Hawaiian Style 'Pump House' During Hurricane Sandy
Courtesy of Surfline.com
Cory Lopez charging historic, South Florida barrels courtesy of 'Sandy'...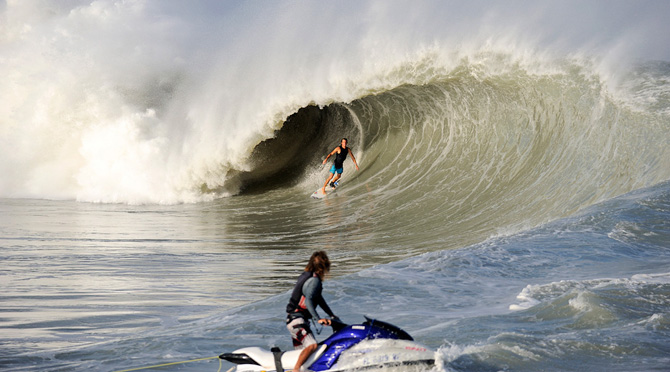 A little less than a decade ago, Pumphouse turned on in a big way and inspired "East Coast Teahupo'o" claims.
A lot of people laughed at the perceived exaggeration. Who's laughing now? Cory Lopez and South Florida's finest, rewriting history. Photo: Tony Arruza
"Dude, it was fu**ing amazing!" added Tupat. (Californian) "Mike Railey, the founder and inventor of the WaveJet,
said it was the best surf he had ever seen in his life. Cory and Shea and Chris Ward saw Ft. Lauderdale Harbor at
20 to 25-feet on Sunday. There's gonna be some footage of this swell on the ...Lost website really soon."
Photo: Nicola Lugo; Video: Charles Dasher
---
DAILY BUZZ / SURF JET SEGMENT #3
---
Legendary Video of Cory by Team O'Neill
What's Cory Lopez been up to this summer?
Although, he did not catch any 'Code Red' drainers in Tahiti this year; in-between signing posters for his sponsors at the U.S. Open, France and at the ECSC in Virginia Beach, he caught a few barrels and launched a few airs in Mexico, Costa Rica & France.
Check out the sick little vid O'Neill put together of Cory while in Costa Rica schooling the groms at O'Neill's Summer Surf Camp.
Also, stay tuned for a sick barrel sequence coming out in Surfer Mag's annual 'The Big Issue' of Cory charging in France.
As Slater says; "Cory Lopez is Legendary". Enjoy!
---
Cory Lopez - Team O'Neill Poster signing w/ Jordy Smith, John John Florence, Timmy Reyes & Alek Parker (Behind Cory, L-R)

For more "Cory" pics - check out Cory's Nekton Surf Shop Instagram Blog http://www.nektonsurf.com/#!news/cnyl

---
New (Sick) Cory Lopez Rockstar Energy Transworld Surf Poster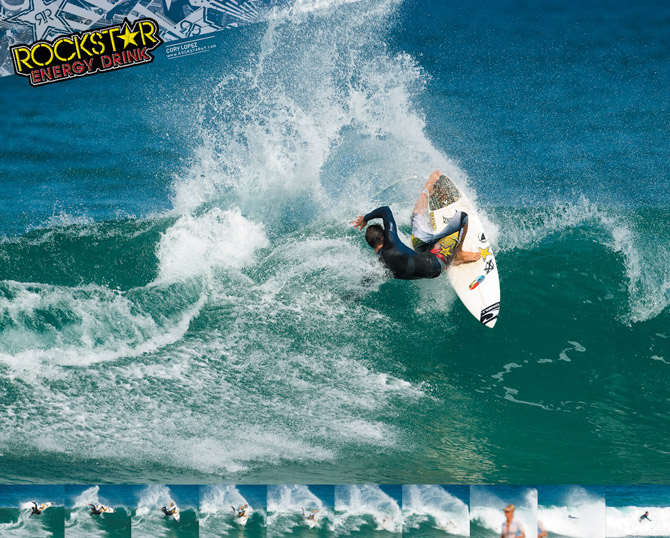 ---
LOPEZ BROTHERS UPDATE:

Shea Won his Round 1 Heat @ ISA Masters;
Cory on 'Deep Strike' Mission w/ Bruce Irons in search of Mexi Barrels...

Cory is on a 'deep strike' mission south of the border for Surfing Mag w/ Bruce Irons
in search of heaving Mexi Barrels...

Following brother Cory's ISA Silver Medal in China earlier this year and Gold Medal in Costa Rica (2010)
Shea is competing in the 'Olympic Recognized' ISA Masters event in Nicaragua...

Shea won his 1st Round Heat with a decisive victory...
Watch Shea surf the ISA Masters Live via the following Link: http://isawmsc.com/live/
---
Cory Lopez Nominated for Surfline Punt of the Year for 2nd time..
 
Lopez scores spot as June Finalist for huge backside punt, somewhere south of the border...

CLICK HERE TO VOTE
---
Cory Lopez WaveJet Demo Day Comes to NC
 
Featuring Cory on the WaveJet as seen in the following Surfer Mag online video...
The East Coast's Cloud Break
Cory Lopez on finding World Class Waves in his Backyard...
Saturday, June 23
Real Watersports invites you to come WaveJetting with Cory Lopez!
Join us from 10am-4pm to try the newest redolution in surfing;
WaveJet-powered surfboards and paddle boards and head into the water with East Coast legendary surfer
and WaveJet rider, Cory Lopez! FREE WaveJet Demos, WaveJet gear giveaways and the chance to surf with a REAL
surfing legend! Stay on into the night at the WaveJet after-party and Cory Lopez signing session - food, drinks and music on the beach - we'll see you there!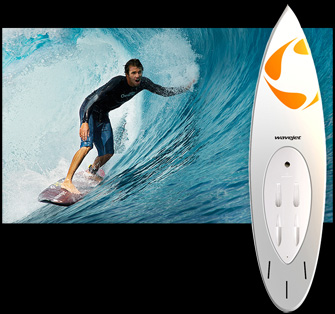 WaveJet Demo Day: 10am-4pm
@ REAL Watersports
25706 Highway 12 - Waves, NC 27982 • realwatersports.com
WaveJet After-Party and Cory Lopez Signing: 6pm - 10pm
252-987-6000
For more info or to request the board you want to try out reach out to info@wavejet.com
with the subject: REAL Watersports
More updates coming soon w/ pics from Cory's recent O'Neill Grom trip to Costa Rica...
---
Cory Lopez features as starter in elite 32 man invitational Bud Light Lime, ASP Specialty Series... Surfline.com
Event Preview: http://www.surfline.com/surf-news/bud-light-lime-surf-series-preview_71018/
Official Website: http://www.budlightlimesurfseries.com/Splash_Page.htm

---
The East Coast's Cloud Break
Cory Lopez on finding World Class Waves in his Backyard...
http://www.surfermag.com/videos/the-east-coasts-cloudbreak/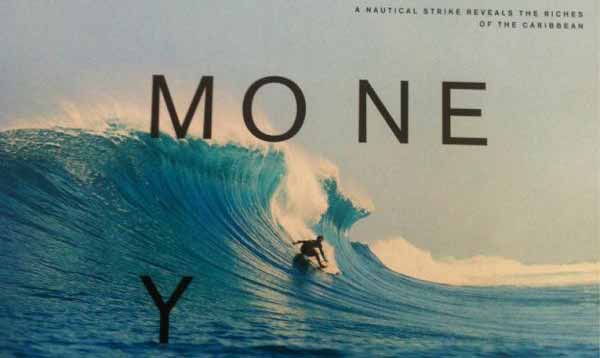 For more on Cory, Shea, and Pete's epic East Coast discovery, check out Surfer's June issue,
available on newsstands now.
---
Lopez, Manos and Parker Surf the Northeast | SURFLINE.COM
---
Cory Lopez Rockstar Instagram Images...
http://www.nektonsurf.com/#!news|cnyl
Cory Applying Rockstar sticker to new board,
before a surf
Rockstar/Lopez Outdoor Retail Billboard Display (Moon's Market)*
---
Cory Lopez Nominated for Surfline.com 'PUNT OF THE YEAR' for recent 'Backside Punt' at Lower Trestles during warm-up sesh for 2012 Nike Lowers Pro... http://www.surfline.com/surf-news/punt-of-the-year-april-finalists_70175/

Matt Lopez Relocates to SoCal ... Cory & Shea's not so "little bro" Matt Lopez (18) has relocated to Southern California... You will be able to catch him surfing Lowers, Salt Creek and wherever it's "Going Off"! Look for the "distinctive, signature Lopez style", above and below the lip! For sponsorship info, please contact the Lopez Management Team and check Matt out on Facebook!
 
Matt Lopez Athlete Bio/Profile & Video Links: http://www.lopezbrothers.com/matt.php
---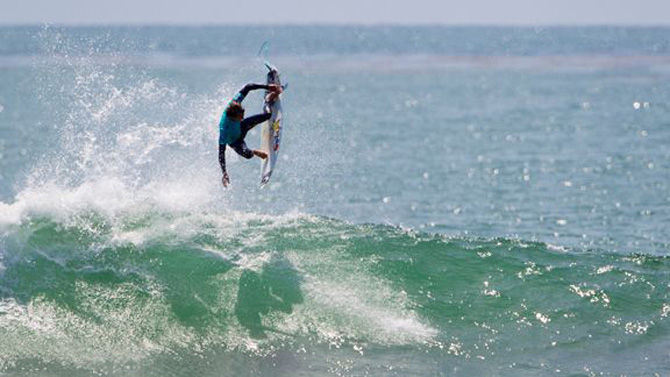 Cory Lopez - ESPN Surfing Photo Feature - Image #13
Cory Lopez Goes Big at Trestles - 2012 Nike Lowers Pro for =9th Place Finish!
 
http://espn.go.com/action/surfing/
---
Check out Cory Lopez's NEKTON SURF SHOP New Website NOW LIVE! www.nektonsurf.com
1999 ASP World Champ and sport icon, Mark Occhilupo... ('Occy') commented of
Cory's Round of 48 Heat win at the Nike Lowers Pro (ASP Prime Event);

"Cory is surfing better than EVER, he must have a magic board, or something".

"Magic Board" or not, we couldn't agree more.

2012 Nike Lowers Pro Live Event Link http://www.nikelowerspro.com/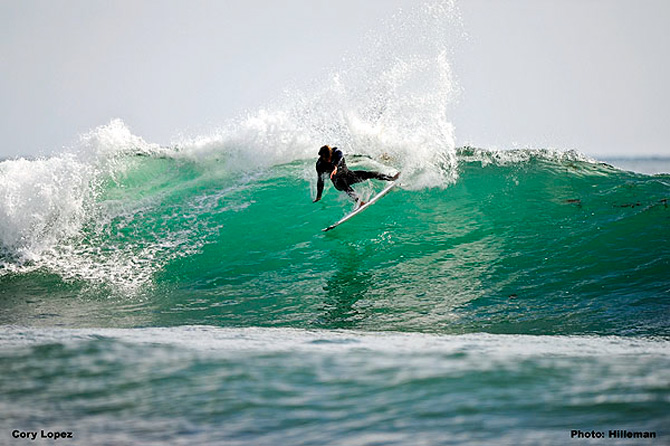 New school, old school; Cory, putting it on edge with a full rail carve during his Round of 48 Heat, enroute to victory...
---
Surfline.com Feature: Nike Prime Lower Trestles Warm-up w/ Cory Lopez...
 
Click the Surfline.com feature Link below to check-out slide #29 for sick sequence of "Fly Boy" 
Cory Lopez showing the boys how to to boost and "SPIN" on his backhand at Lower Trestles...
 
http://www.surfline.com/surf-news/nike-lowers-pro-freesurf_69973/
 
---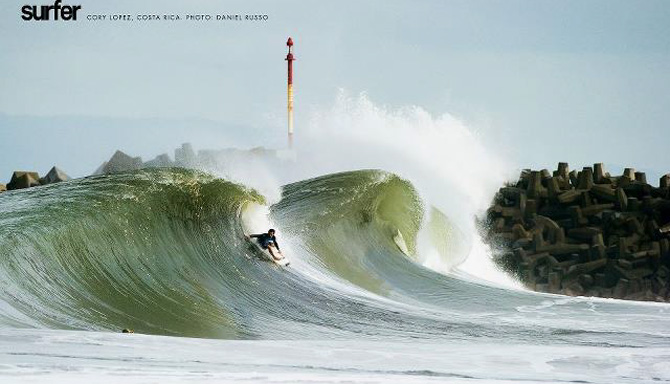 Mental Cory Lopez image. Cory Lopez, Costa Rica. Photo: Daniel Russo
---
Cory Lopez advances to Round of 48 at Nike Lowers Pro ASP Prime Event; in clean 3-4 foot south swell peaks... Watch the Contest Live as Cory surfs his next Heat at the fabled Southern California cobblestone Point Break... While Shea Lopez joins Sal Masekela in the commentary booth...LIVE LINK
---
Cory Lopez & Others Charging It In Puerto Rico. Early April
---
From 78 Degree Tropical Caribbean water temps
to 38 Degree North Atlantic waters...
 
Cory Lopez is in the midst of a whirlwind Western Atlantic Surfari...!
 
Cory recently scored some heavy "Back Door" style Barrels with Brian Toth at a Puerto Rican 'secret spot' and is now chasing the next swell with fellow O'Neill team mate, Alek Parker to the cold North Atlantic Waters of Nova Scotia...!
 
Also... Look for an upcoming story in Surfer Magazine, featuring Cory and brother Shea from recent Caribbean surfing expedition. You can get get a sneak preview from the current WaveJet full page ad running in the current issue of Surfer Magazine!
 
Stay tuned for more info and pics from Cory's journeys!
---
---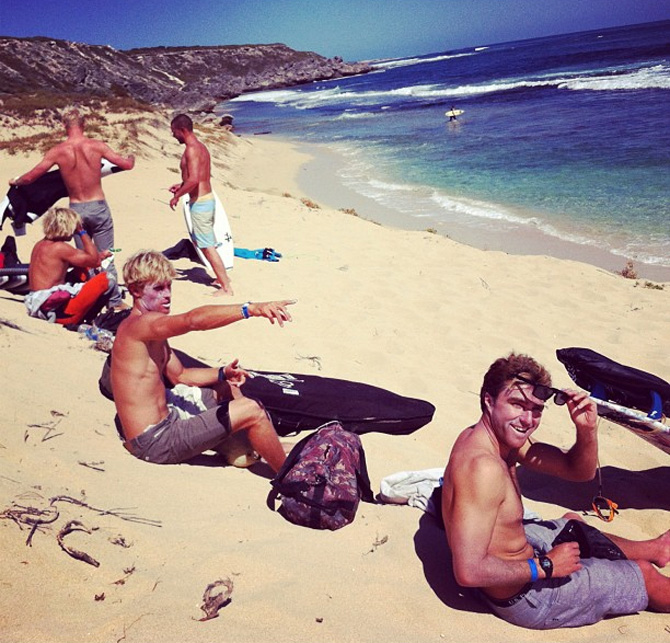 Went surfing today with team America. Waves were kinda average but the company was awesome.
---
---
3/20/12 Western Australia
This wave looks sick and so tempting, but damn the end bowl rock get shallow.
---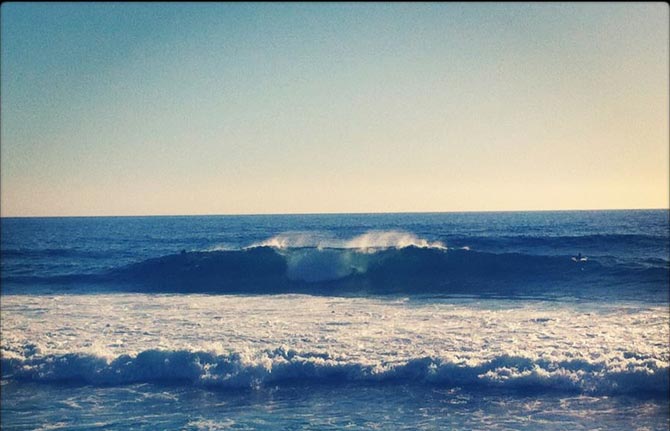 Fun waves today. Surfed this spot for six hours. Yes I'm very very tired.
---
---
3/10 Cory is off to OZ for the Margaret River ASP Prime event!
Stay tuned for more updates and pics from Cory, from the land "down under"...!

Check out Cory's upcoming ASP Spring Contest/Travel Schedule...
http://www.aspworldtour.com/schedule/asp-mens-prime-events-schedule/

Prime Mar 20 - 25, 2012 Margaret River, Australia Telstra Drug Aware Pro $250,000
Prime Apr 30 - May 5, 2012 Lowers Trestles,Calif, United States of America Nike Lowers Pro $250,000
Prime May 21 - 27, 2012 Itauna,Saquarema, Brazil Saquarema Surf Pro International (Tentative) $250,000
Prime Jul 2 - 8, 2012 Ballito,mobile, South Africa Mr Price Pro Ballito $250,000
Prime Jul 30 - Aug 5, 2012 Huntington Beach,California, United States of America Nike US Open of Surfing $250,000
---
---
Fernando De Noronha, Brazil
Well it's another year and just like last year Fernando is the first big event of the year. The only difference is that this year feels way different than last year. I feel like I am stuck in-between two cross roads; do I want to compete or do I want to just free surf..?
 
Last year all I did was compete and while at times I had some fun, it was not nearly as rewarding or fun as my previous three years of free surfing. That could also have been due to the fact that I had a very heart breaking mediocre year (results-wise).
 
I say heart breaking because I seemed to have lost every close heat last year. Between the two lost ties in "Primes" and the two heats I some how lost on the WT, I can see how different my year could have been. Sometimes the difference between an early loss and a big result can make or break your whole year. So now it's on to 2012. I'm in Brazil and I want to win in a big way. My goal is to start the year strong so that it gives me the motivation to compete this whole season. Come on Brazil be good to me.
(Above) This is day one of the comp. The morning free surf was really fun.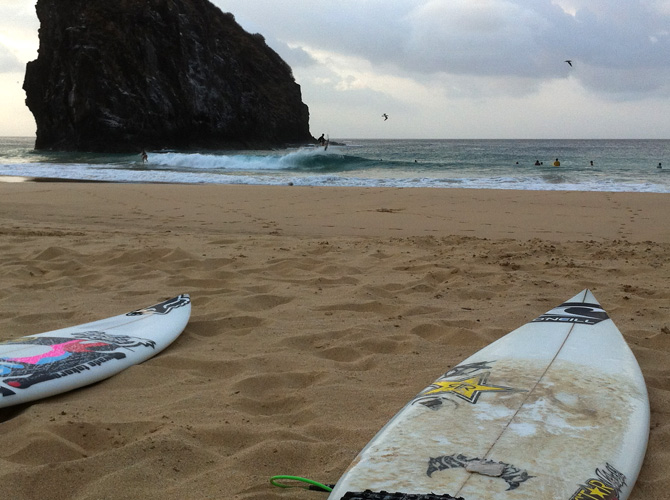 (Above) This was my first day in Fernando. And he pulled that passion pop.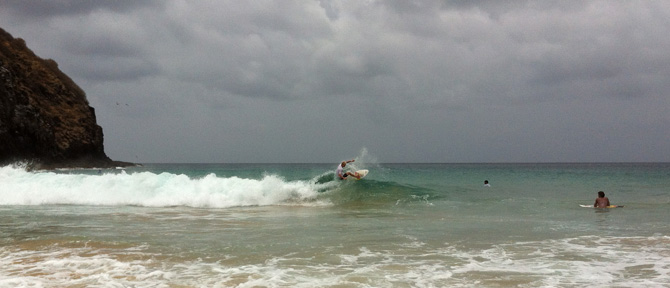 At this size it reminds me a lot of a wave I grew up surfing in the gulf. Nat Young laying into a cutty.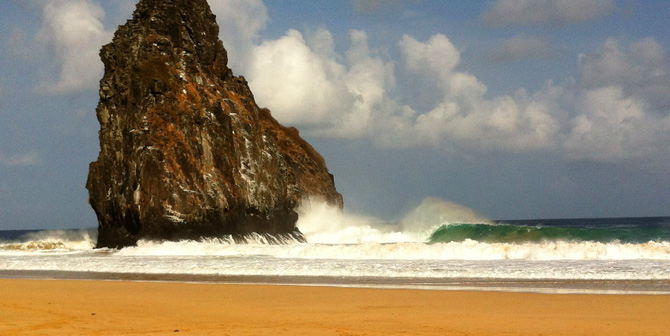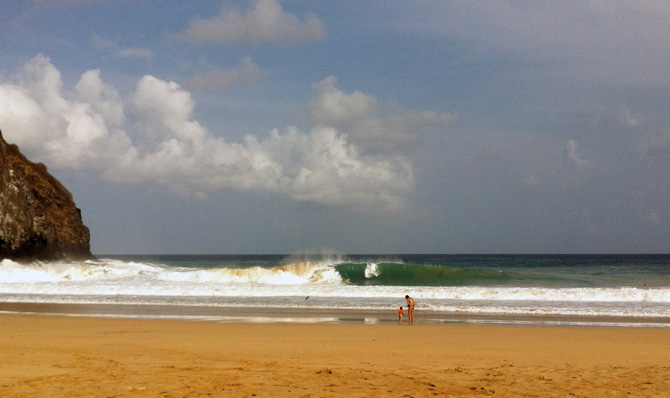 Cory Lopez ASP Prime Tour Event Schedule:
Feb 7 - 12, 2012. Fernando de Noronha, Brazil
Hang Loose Pro $250,000

Just Got to Brazil - hope it's barreling...

I'm in Fernando De Noronha (for the ASP Prime Hang Lose Pro). It's a small island and I have a feeling we're not going to get the Super Bowl tonight. This is sad.
---
---
---
 Team USA's Cory Lopez earns Silver Medal for 2nd Place finish at historic
ISA China Cup! Team USA places 3rd, for Bronze Medal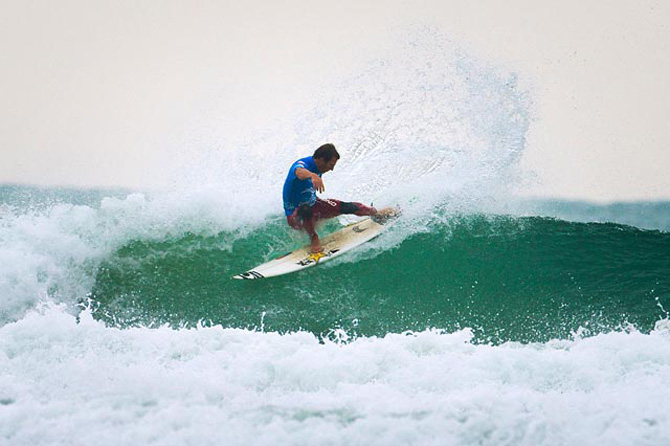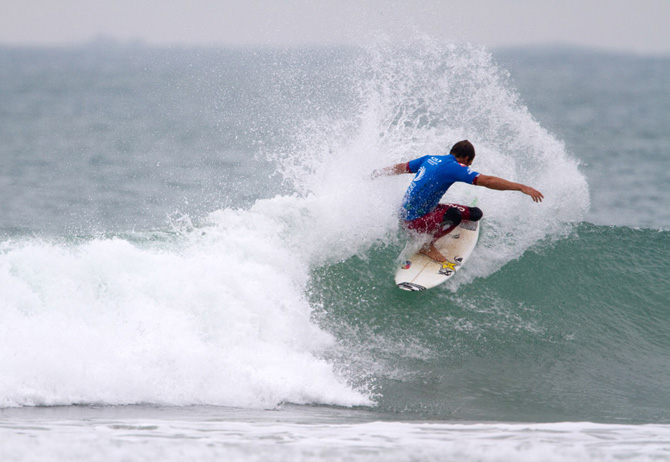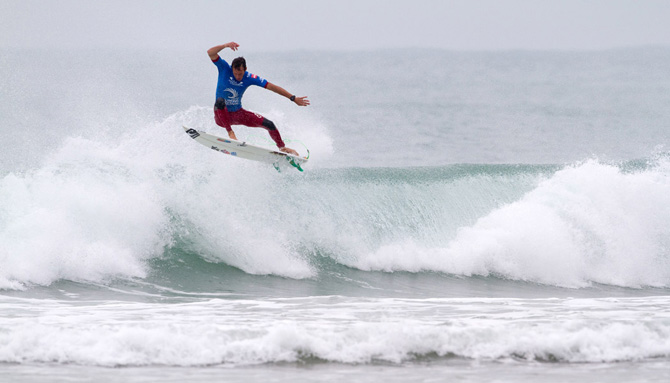 Team USA Captain Cory Lopez - Flying high above the South China Sea to
Land a Silver Medal in the inaugural ISA China Cup!
Going for the Gold, Team USA Captain, Cory Lopez held down the lead for most of the Final, slipping to a 2nd place finish for the Silver Medal after Australia's Heath Joske managed a last minute come from behind two wave total to eclipse the other finalists. Cory earned a Gold and Silver Medal for Team USA in 2009 at the ISA World Surfing Games held in Costa Rica.
 
Gracious in defeat, the Silver Medalist said he was "stoked to be in China" and Congratulated Heath Joske for his come from behind win to take the Gold.
 
The ISA (International Surfing Association) is recognized by the International Olympic Committee (IOC) as the world wide governing authority for the sport of surfing.
 
For More Information: http://hainaninternationalsurfingfestival.com/china-cup/
 
Official Lopez Website: www.LopezBrothers.com
---
China - Leading Up To The Event…
CLICK HERE FOR LIVE CONTEST LINK!
(Left) Cory flying the American
flag at the ISA China Cup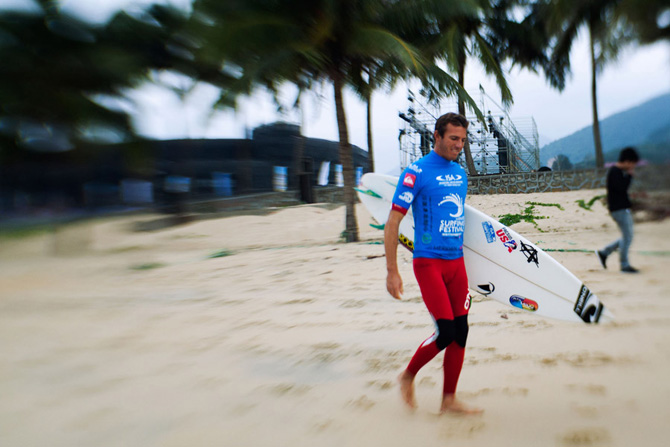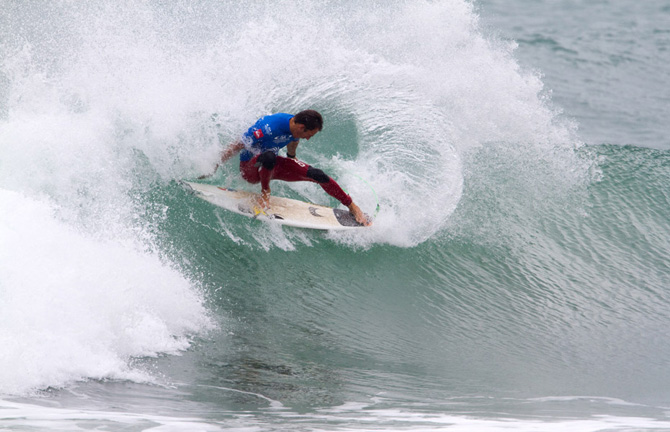 Sunday, January 8, 2012
Wanning, Hainan Island, China
 
Press Conference Announces the Start of the Inaugural Hainan Wanning Riyue Bay International Festival of Surfing Presented by Quiksilver
 
Dignitaries present to speak with the more than 50 press on hand were: ISA President Fernando Aguerre; Womei Media CEO, Mr. Yang Dunhao; President of Quiksilver Asia-Pacific, Greg Healey; Deputy Director of Hainan Sports Bureau, Mr. Chen Yajun; Ms. Liu Bei, a representative from Headquarters of the Agriculture Bank of China; former ASP World Tour surfer, Cory Lopez (USA); former ISA gold medalist, Pauline Ado (FRA); and ISA junior gold medalist, Cristobal de Col (PER).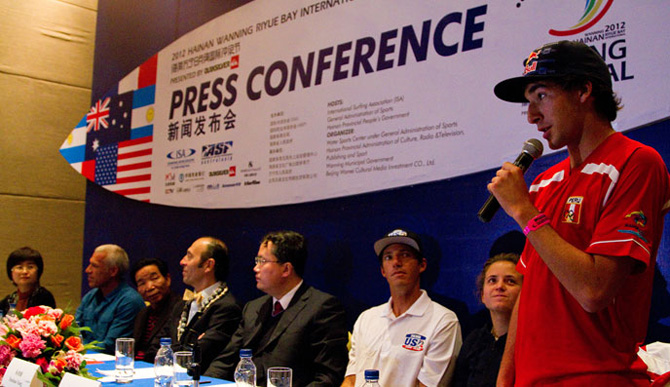 Team USA's Cory Lopez Looks on as Cristobal de Col of Team Peru greets the Press and International Dignitaries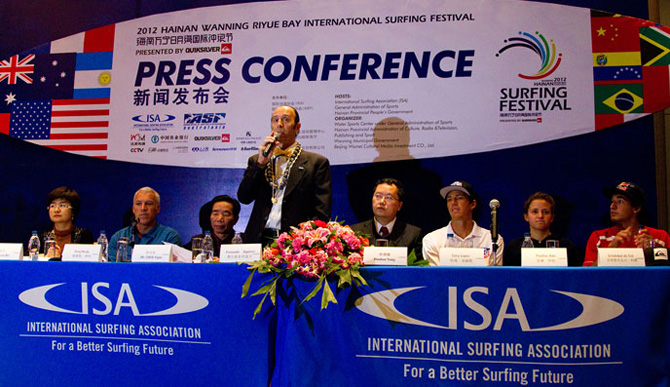 ISA President Fernando Aguerre shares his dream to develop surfing in China with the gathered media at the
Festival-launching press conference. Photo: ISA/Billy Watts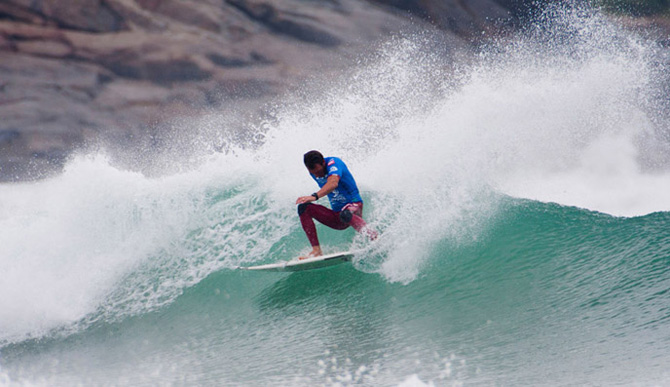 Team USA's Cory Lopez cranks one of his patented powerful frontside turns on his way to a heat win in the
Qualifying Rounds. Lopez earned a Gold & Silver Medal during the 2009 ISA World Surfing Games,
held in Costa Rica. Photo: ISA/Muñoz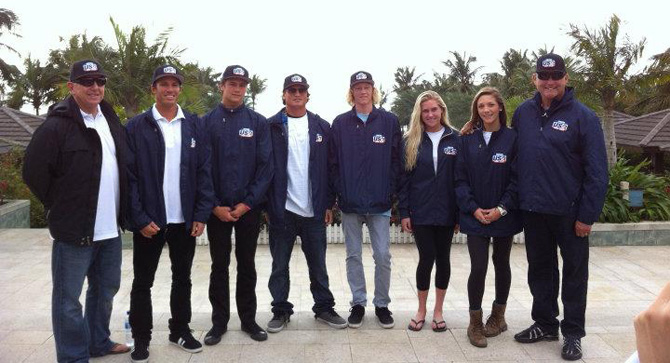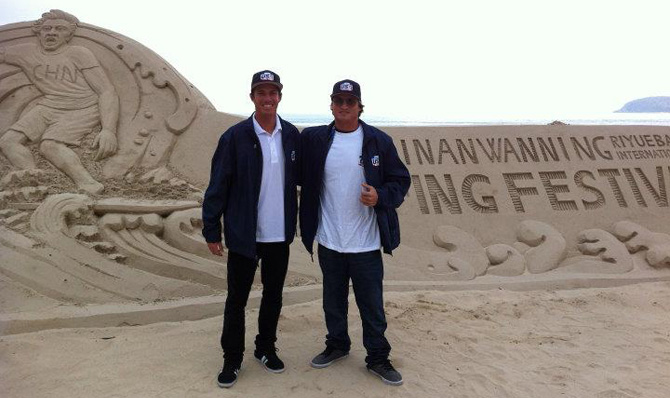 (Above) Cory with fellow Team USA member, Chris Ward.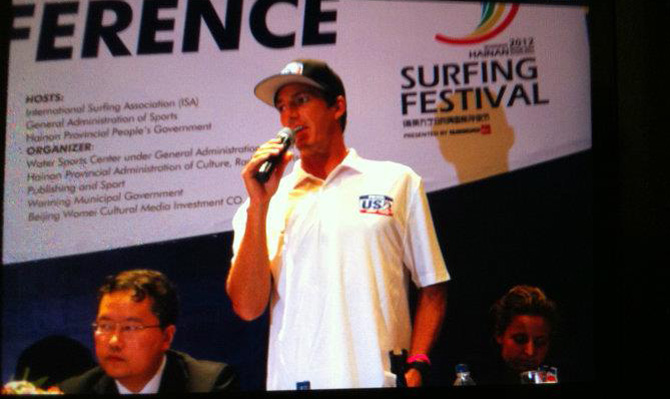 Ground-breaking two-event China festival starts 2012
Cory Lopez Announced as Starter for Team USA in ISA China Event 
http://www.surfersvillage.com/surfing/54585/news.htm
ESPN Feature Story...
2009 ISA Gold & Silver Medalist, Cory Lopez Leads Team USA to China...!
http://espn.go.com/action/surfing/blog/_/post/7415564/exporting-china
---
<< CORY LOPEZ BLOG PAGE 2 ENTRIES/PREVIOUS LINKS
I have been on hiatus for a bit, but I'm back. Here are a few shots I got while in Hawaii.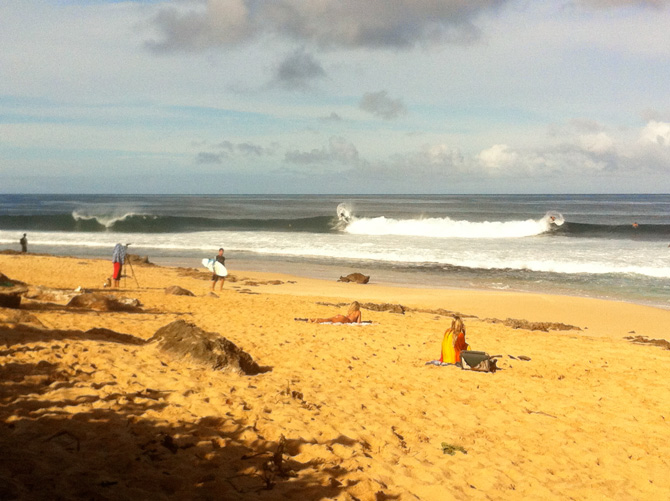 I stayed right at Rockies this year. It was a blast with a bunch of days just like this.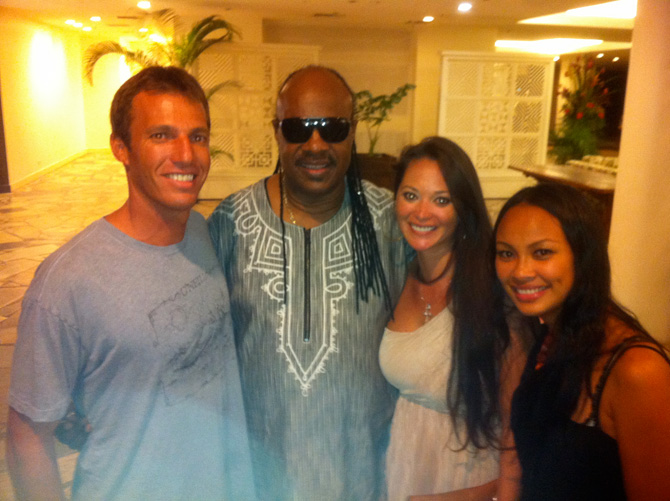 WaveJet had a party and Stevie Wonder showed up. I was more than
stoked to get a photo with him, what an honor.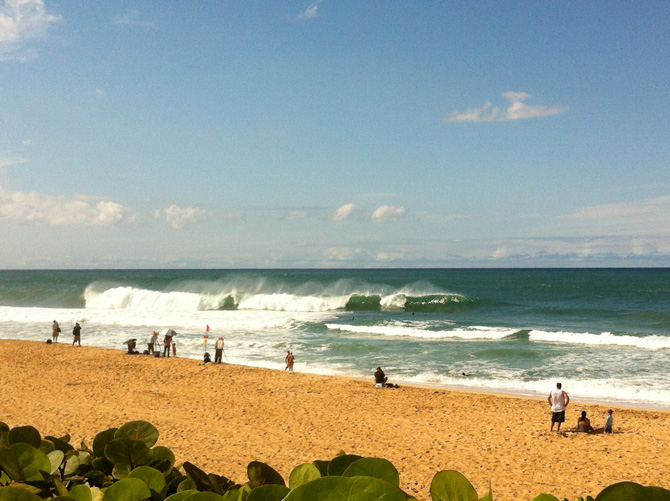 While most of my time in Hawaii this year, it was small; I did get to surf
Pipe and Off The Wall one day - and there were a few good ones.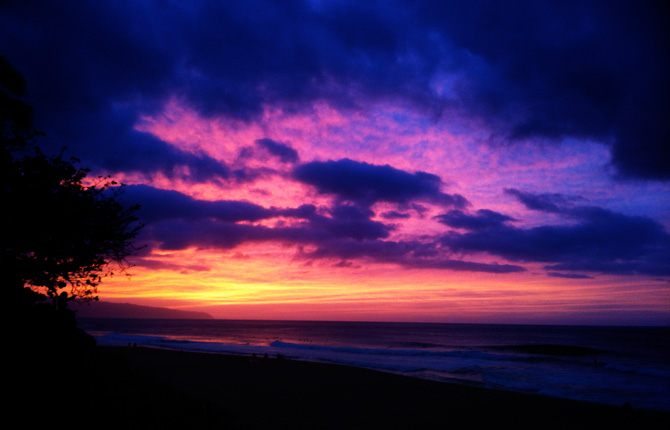 Pipeline sunset.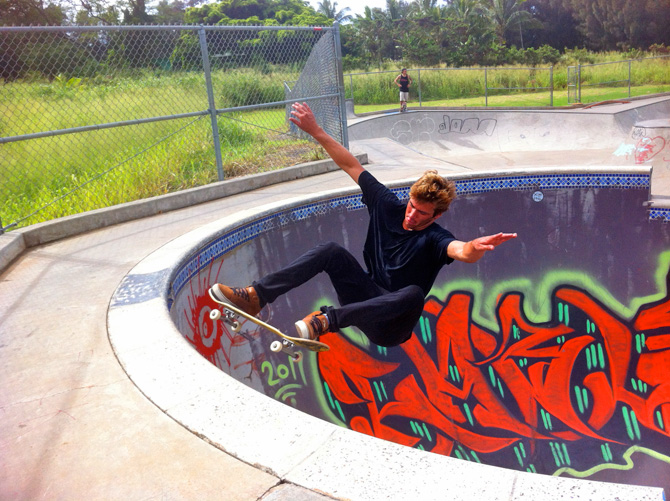 Eric Geiselman focused on a different kind of north shore bowl.
---
HAWAII
Well it's November and I'm in Hawaii again. The waves have been small for Hawaii standards, but for me I've have been having a blast! I'm staying at Rocky Point this year and I am stoked! I have already had a few good sessions out back. One thing about Rockys is it is usually crowded. Luckily for me the boys were all surfing Backdoor and Off the Wall the other day and I scored some uncrowded surf. It was a blast! These shots are from the next day when it dropped off a little bit.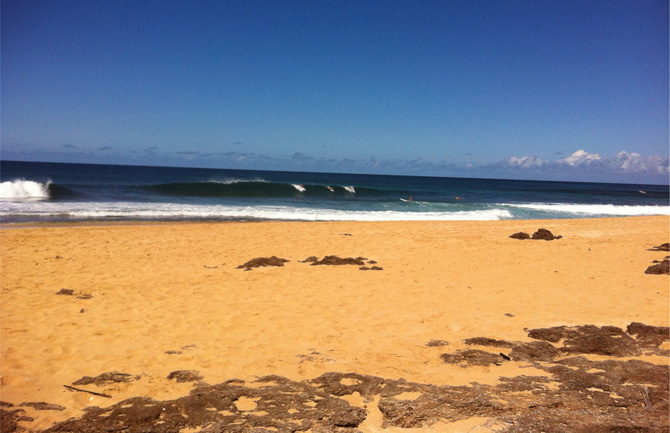 This is a shot of the point at rockys. It is usually all rocks. It's kinda nice like this.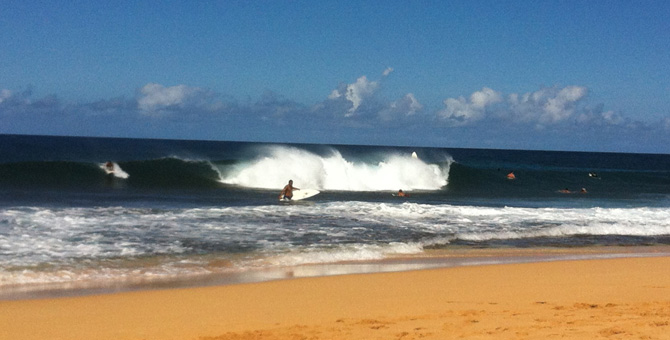 For more on Cory's Recent Trip to Hawaii Checkout this link
http://www.stabmag.com/full-frame/cory-lopez-rocky-point-hawaii.php
---
OBX
A few weeks back Shea and I were sitting on my couch watching the final day of the Portugal WCT. The guys were getting so barreled, we were losing it. Luckily for us there was some kind of subtropical storm moving over Florida that day and working its way up the coast. I really wanted to get tubed so I asked my expert surf forecaster
brother if we could find some action up the coast. The answer was yes and two hours later after sweet talking our wives into letting us go; we were in my truck and heading north on our eleven hour drive. The trip was a blast, we scored some heavy tubes for two days and headed home stoked. Here are a few shots I took...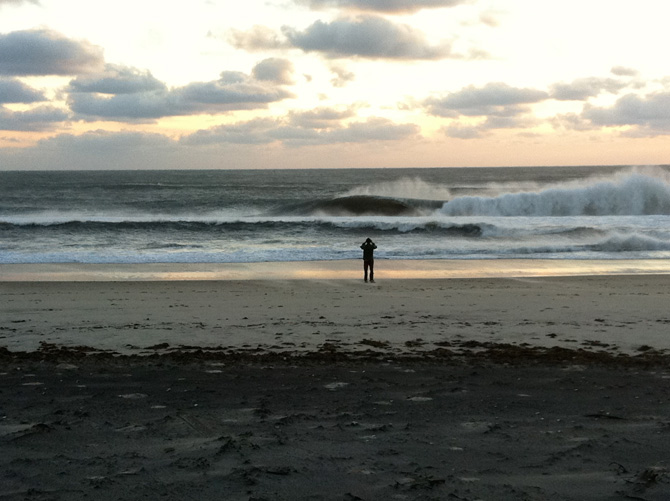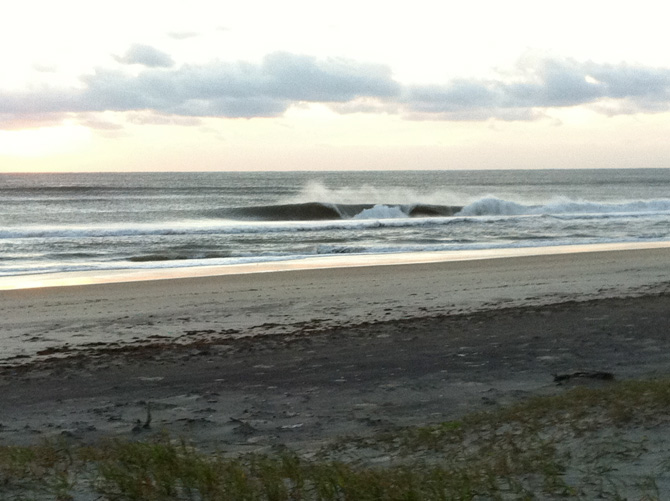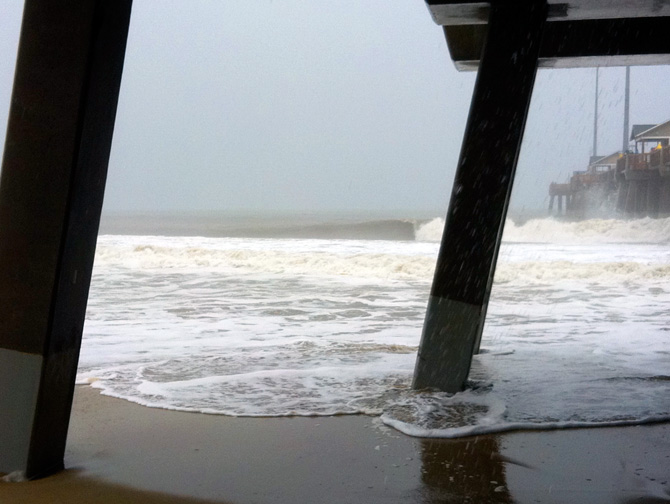 ---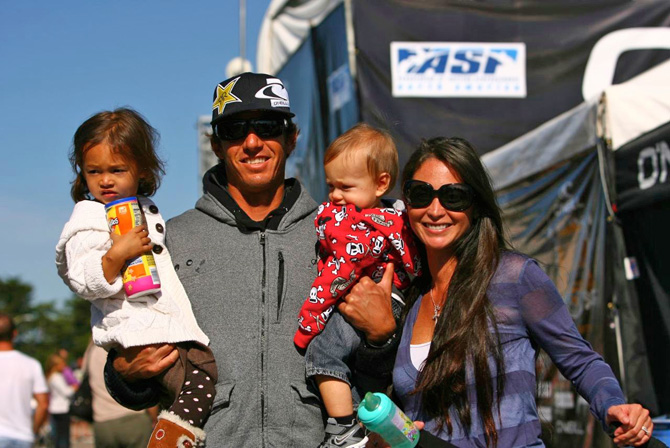 Cory Fam Pic at Steamer Lane (CWC Event site) w/ wife Jenn, daughter Alana and son, Luke.
Photo Courtesy: O'Neill/ASP World Tour
---
Cory Lopez up for possible nomination -
Surfer Mag Tube of the Year Award for strapless tow-in beast at Teaupoo...
http://www.surfline.com/surflinetv/sixty-seconds/cory-lopezs-backless-teahupoo-wonder_61330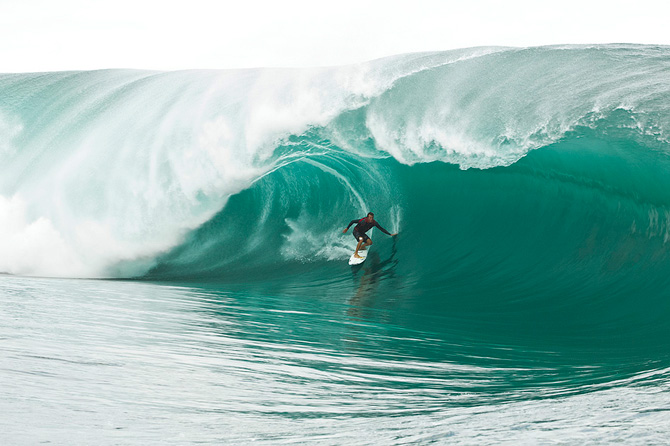 Cory stunned the surfing world by winning the Surfer Mag Guts for Glory Award and defining what was possible at Teahupoo in 1999 and 2003. He has done it "once again" in 2011... Surfline.com #1 video Feature....
---
Cory is currently chasing barrels with brother Shea in the Outer Banks (Cape Hatteras, NC) and will soon be heading to Santa Cruz, CA for the O'Neill Cold Water Classic and then on to Hawaii for the Vans Triple Crown of Surfing.
Stay tuned for more photos and updates from Cory!
---
Surfline.com Feature Link...
 
"The Hunt"... Featuring 'Hurricane Maria'
Starring Cory & Shea Lopez, Matty Lopez, Alek Parker, a "few" Jelly Fish and
guest appearance by Taj Burrow (Post NY Quik Pro)
 
(Great opening footage with Cory's daughter Alana, showing off her "skateboarding skills
and "Grandad" Pete Lopez in background)
---
THE LOPEZ BROTHERS ENJOY A BIT OF SOUTHEAST SWELL AT HOME
---
NO NAME SWELL
The no name swell was a blast. The first few days Shea and I surfed inside the New Smyrna Inlet. As that was the only place we could surf with the 30 plus mph winds we were getting. On the second day we went out right when the storm was intensifying and we got blasted. 30 minutes into our session the wind kicked into the 50 mph range. It was so gnarly driving a ski in those conditions. The rain was sideways but the surf was still super fun so we carried on for another hour or so. When we returned to the dock the storm surge had broken the boat ramp dock. And all the charter boats that were tied up looked like they had about all they could handle. The next day the wind finally backed down and we scored some surf. Here are some shots from when the swell backed down. Name or no name this storm produced some of the biggest Florida surf I have ever seen.
Photos: Patrick Tupat Eichstaedt
(Above) Shea Lopez
AZORES
Just went for a little cruise on the first day in the Azores.
The wind was onshore at 40 and the surf was twelve feet and unsurfable.
Saw some interesting
dishes at the market.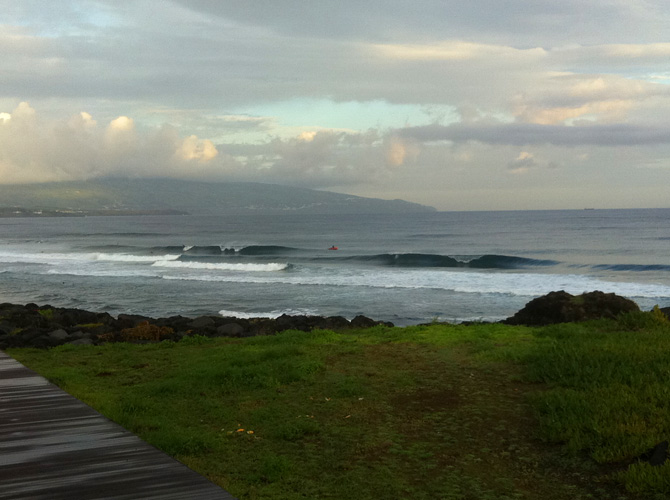 And yes the waves got good on day two. Offshore and perfect all day.
I did not have a heat, so I got to free surf all day. I surfed a sick left wedge with CJ, Nat Y,
Evan G, John F, and Kolohe.  It was the second best beach break waves I 've surfed all year.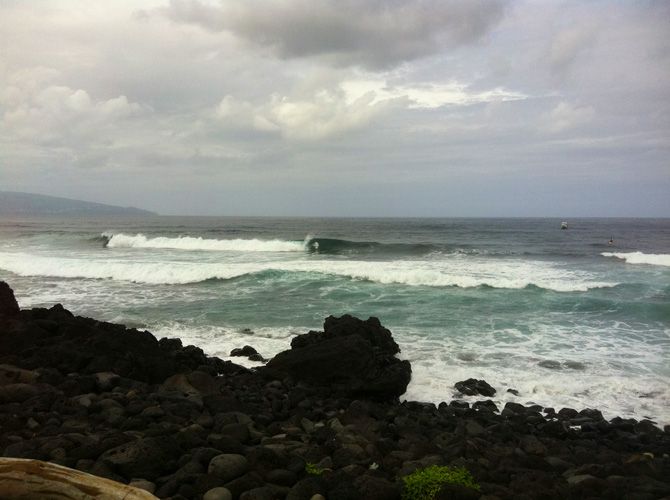 This shot is from today, the 29th (Sept) I lost this morning in bad wind blown surf.
It's getting better now. Heading out for a free surf.
---
THE LOPEZ BROTHERS SURFING AT HOME DURING TROPICAL STORM MARIA
Photos: Patrick Tupat Eichstaedt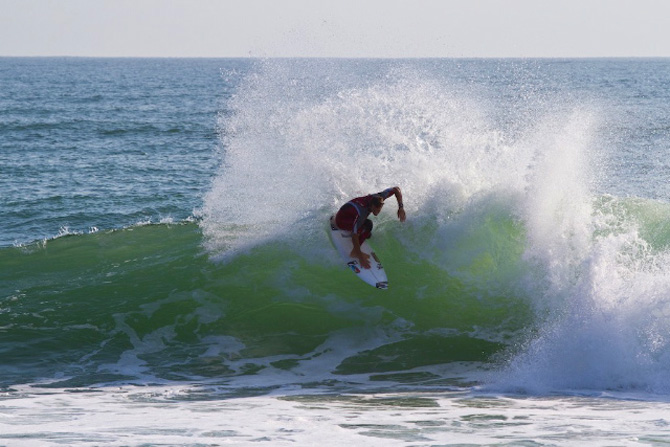 (Above) Cory Lopez. (Below) Matt Lopez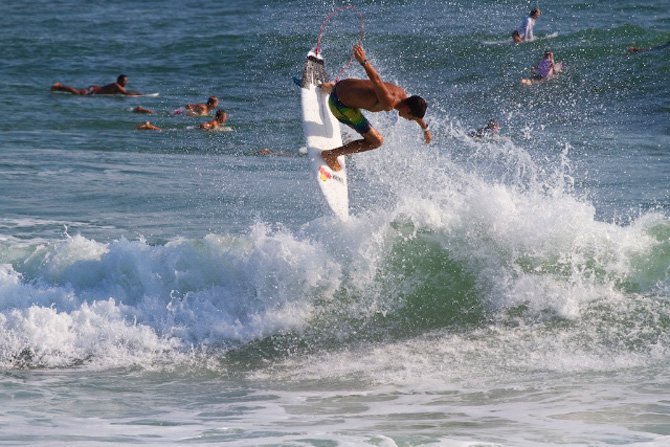 (Above) Shea Lopez (Below) one of the millions of Jellyfish that came to the East Coast with TS-Maria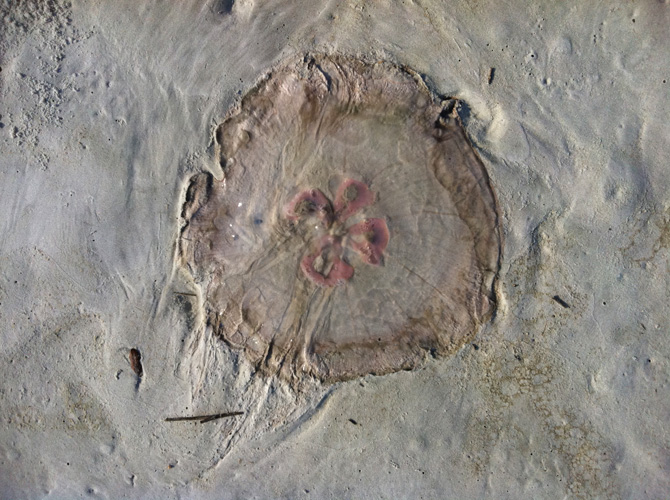 After NY, I was stoked to be back in FL for Tropical StormMaria. The waves were really fun all week. My brothers Shea and Matt were also home and we got a couple sessions together. The only bummer on this swell was the "Jellies" (Jelly Fish) were so bad, I wore a 2 mm full wetsuit in 80 degree water and only got a few stings on my face. Some guys were getting really tore up. The full suit also helped the (reef) cuts heal on my leg.
---
QUIKSILVER PRO NEW YORK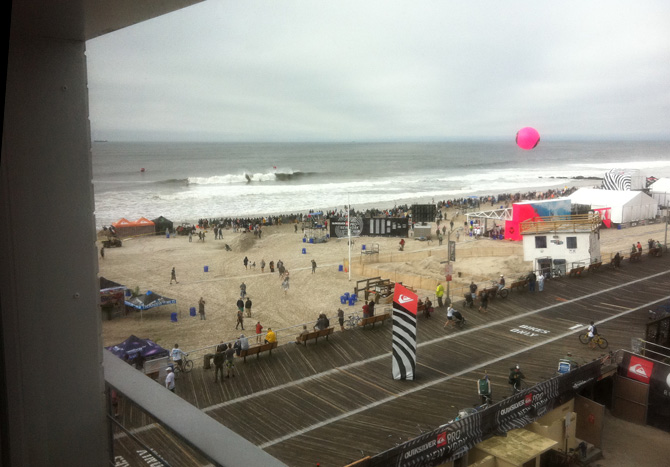 This was the view from my room at the NY contest site (pic). I only needed to advance through two heats to make the halfway cut (mid-year rotation). Unfortunately, it didn't happen (according to script). I felt pretty good considering I haven't surfed since Tahiti; due to some fairly solid holes (reef cuts) in my leg that I was trying to heal.
 
I had one warm-up (session) before my first heat and felt OK. Unfortunately I couldn't get a "score" in that 1st Heat. The same held true in my Round 2 Heat. After that 2nd Heat, a few people told me they felt I should have won that one. Later, when I reviewed the Round 2 Heat (video), I felt it was a close one. I rode all my waves perfectly with no bobbles, whereas my opponent, (Kieren Perrow) surfed his waves well; however, he was "bobbling" the whole way through. This year has been tough. Losing two ties and numerous close calls can begin to wear on you. I'm hoping to get past this current funk in the second half. With only four "Primes" in the second half (of the year), I'll have to be "on" (to make the next rotation). That said, with the lighter work load, I look forward to some more time with my family in FL and hopefully a free surf trip or two.
---
How To Surf For Six Hours With Cory Lopez
---
Cory Lopez is suddenly looking at another shot at the World Tour...
---
Cory Lopez gets start in Quik Pro New York for Historic $1 Million Purse
 
Hurricane 'Katia' Swell Models looking Favorable
 
Due to the injury withdrawal of Hawaiian Dusty Payne and fellow O'Neill team rider, South African Jordy Smith; Cory Lopez will get a start in the historic $1 Million Dollar Quiksilver Pro New York for a chance to win the $300K 1st Place prize and secure a berth on ASP World Tour following the mid-year rotation. Atlantic swell models are looking favorable for the forecast track of Hurricane Katia. Cory Lopez has been 1st Alternate this season and has managed to find his way into all previous events this year. Cory is hoping to capitalize on this opportunity, which will define the top 34 for the second half of the ASP season. Cory will contest Round-1, Heat #7.
 
QUIKSILVER PRO NEW YORK ROUND 1 MATCH-UPS:
Heat 1: Joel Parkinson (AUS), Brett Simpson (USA), Travis Logie (ZAF)
Heat 2: Jeremy Flores (FRA), Dane Reynolds (USA), Gabe Kling (USA)
Heat 3: Taj Burrow (AUS), Patrick Gudauskas (USA), Fredrick Patacchia (HAW)
Heat 4: Owen Wright (AUS), Jadson Andre (BRA), Bobby Martinez (USA)
Heat 5: Mick Fanning (AUS), Heitor Alves (BRA), Asher Nolan (USA)
Heat 6: Kelly Slater (USA), Daniel Ross (AUS), Balaram Stack (USA)
Heat 7: Adrian Buchan (AUS), Alejo Muniz (BRA), Cory Lopez (USA)
Heat 8: Bede Durbidge (AUS, Chris Davidson (AUS), C.J. Hobgood (USA)
Heat 9: Michel Bourez (PYF), Raoni Monteiro (BRA), Adam Melling (AUS)
Heat 10: Damien Hobgood (USA), Matt Wilkinson (AUS), Tiago Pires (PRT)
Heat 11: Adriano de Souza (BRA), Josh Kerr (AUS), Kai Otton (AUS)
Heat 12: Julian Wilson (AUS), Kieren Perrow (AUS), Taylor Knox (USA)
 
The Quiksilver Pro New York will be webcast LIVE via http://www.quiksilverpro.com
---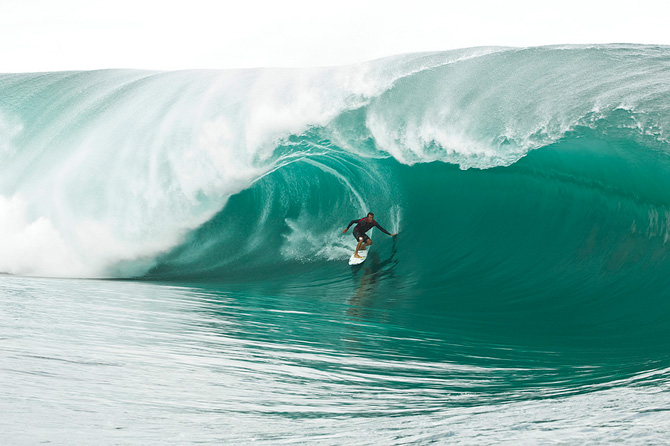 Whether its 2-foot beachbreak or gaping Tahitian barrels, Cory Lopez is the epitome of the well-rounded surfer.
Photo: Joli / Surfer Mag
Cory Lopez - Tahitian Tow-in Monster during the
Mega Tow-in Session at Teahupoo - 2011 Billabong Pro
http://www.surfermag.com/photos/towing-into-tahiti/#d45e125cb7
Knowing the Teahupoo line-up like the back of his hand, Cory was one of the Jet Ski Tow-in Drivers on the Giant Day. He then took his turn behind the tow rope to get slung into this one towards the end of the session. Most of the Photogs had left the line-up, except for a handful, like Peter Wilson (Joli). Image # 5 in Surfer Mag Photo Pictorial sequence.
---
Billabong Pro Tahiti Update: Death Defying Heroics and near Misses...
(Teahupoo Unmasked and Off the Charts)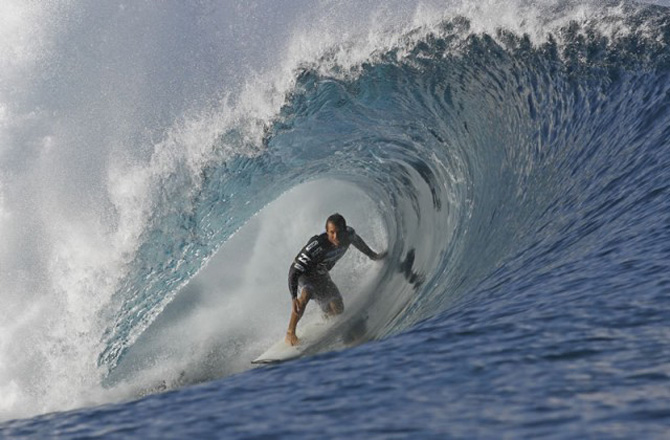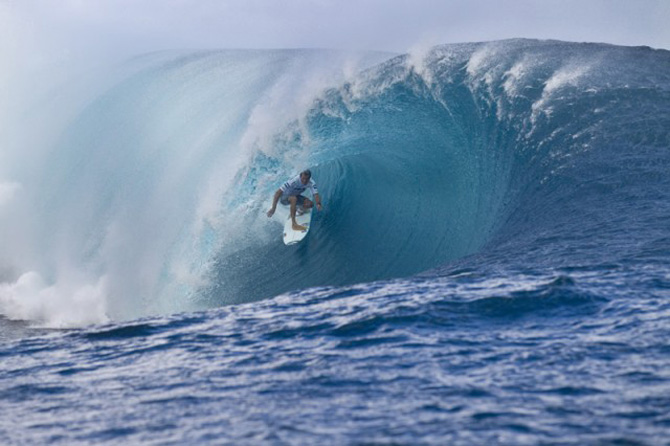 Cory Lopez handily won his 1st Round Heat and progressed directly into Round 3 for an =13th Finish.
1999 ASP World Champ, Mark (Occy) Occhilupo and 2011 Billabong Pro Commentator said the 2001 Billabong Pro Champion (Lopez) was one of his "favorites for a possible come back win" at "macking" 10 foot plus Teahupoo.  
In his Round 3 Heat, Cory had the wave of the day and almost made it out. Had he made the wave it would have almost certainly scored a perfect '10' as Occy was claiming it would have been a "12"! Cory was nearing the exit after "back dooring" and making the hardest part of the wave; only to be ejected by the foam ball blast. The judges were so impressed with his effort they awarded him a 4.83 for nearly making it. There is no doubt in anyone's mind that it could have turned the heat and the momentum in Cory's favor, had he not been "foam bounced" at the last millisecond. Nevertheless, the wave and wipe out made for dramatic cinema. Check the instant replay of Cory's "near perfect" wave and subsequent head over heels wipe out in 'The Heat Analyzer' Section of the Billabong Pro website (Round 3, Heat 1); 
http://billabongpro.com/tahiti11/heat-analyzer-gb
The following pics are form Cory's Round 1 Victory, which he won in clean 4-6 Teahupoo barrels (Day-1) and the 2nd pic is from his deep, Round 3 "pit" that he nearly made (Day-7).  
Stay tuned for more commentary coming from Cory. Just one more event before the mid-year rotation. Stay tuned to see if Cory's "alternate" streak will continue, with a slot in the inaugural Quiksilver Pro New York, and the historic Million Dollar Purse...!  
Fast Facts: Cory won the Billabong Pro Tahiti in 2001 and two Surfer Mag 'Gut's for Glory' Awards for his tube riding bravado at Teahupoo in 1999 and 2003.
---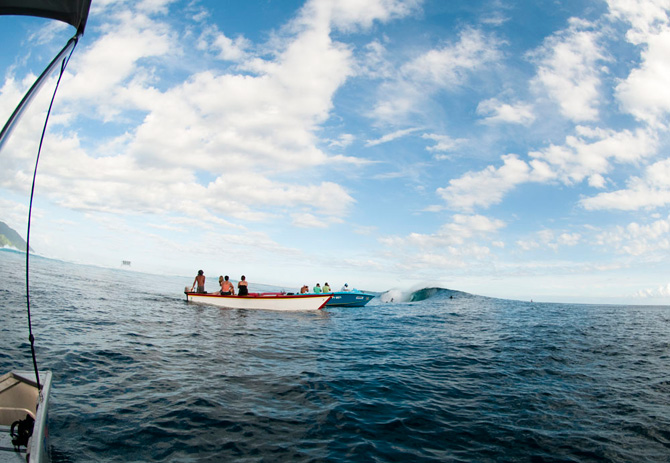 This is a photo from day three of the Tahiti comp. It was really fun once again
but with the forecast looking good we are waiting for the swell to build.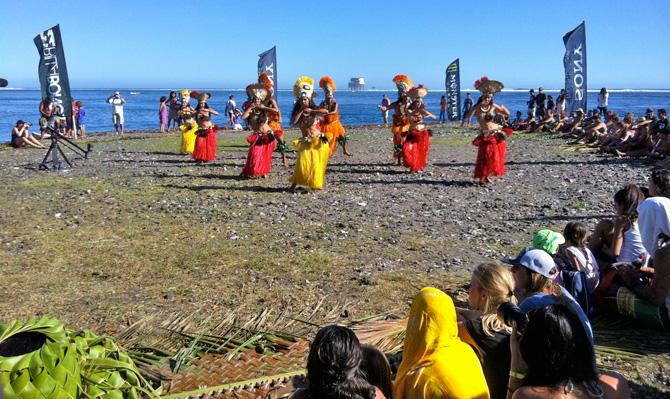 The opening ceremony was cool with the local band playing and girls dancing. They also did a nice ceremony for Andy with Bruce in attendance. Later in the day Colbie Caillat played music on the point for a small but appreciative crowd. Tahiti has been a blast so far. I am thankful for these small fun days we have had to warm up with. I know the big swell is coming. You can see it on every competitors face that they are excited yet nervous for what is to come.
---
I was surfing ponce Sunday when a large storm forced us out of the water. The storm blew up so quick that
I ended up with ten of my friends hiding out in my truck. Then this fire just blew up in the park.
---
U.S. OPEN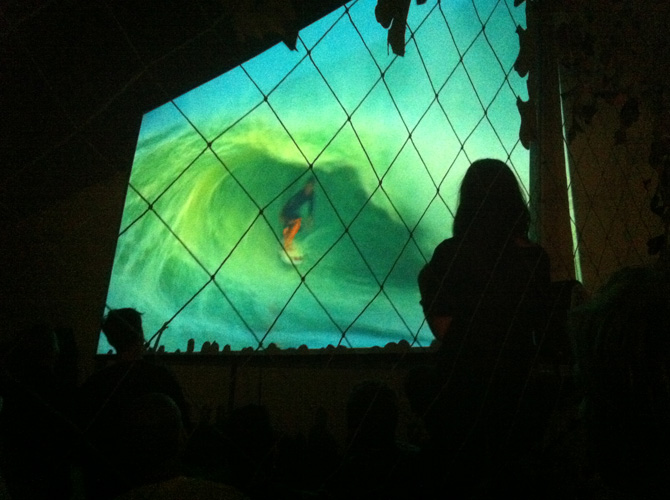 Damo getting shacked at premier of the new globe movie.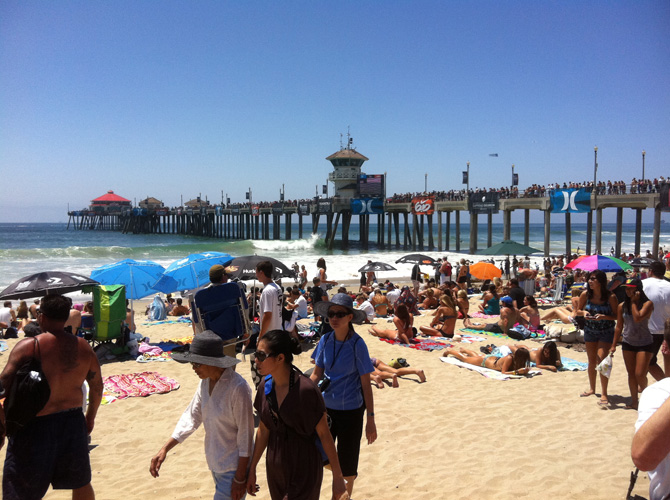 Huntington Beach was on fire Friday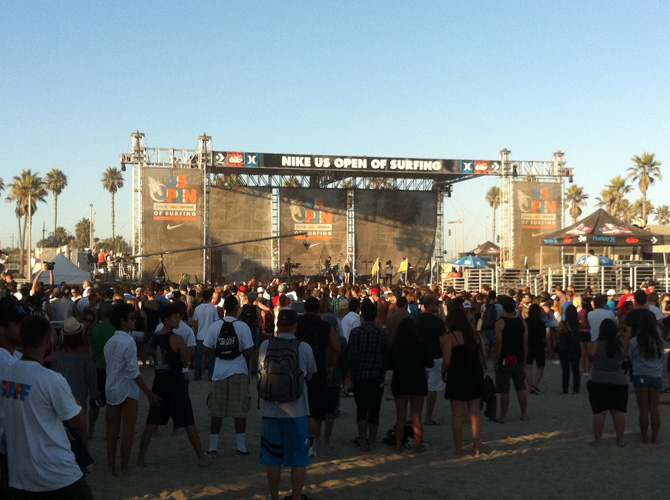 Got to see the sounds perform on the beach at the U.S. Open.
---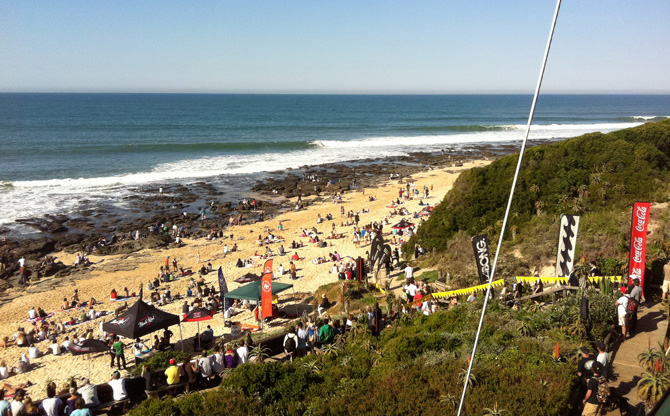 (Near Perfect, but Small)... J-Bay. Photo Cory Lopez
---
ASP Exclusive Interview: Cory Lopez in for Dane Reynolds
at Billabong Pro Jeffreys Bay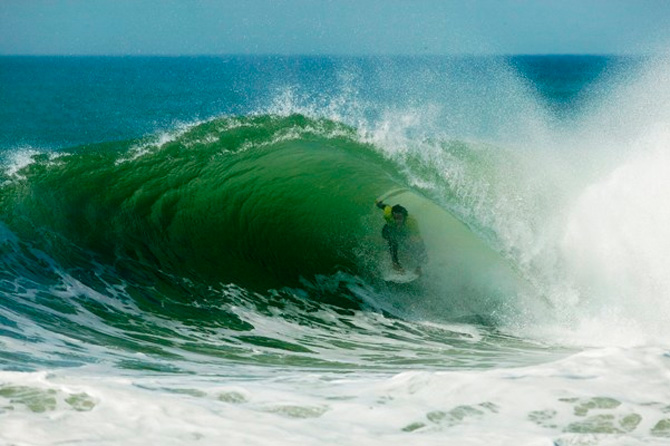 Cory Lopez (USA), Current ASP World No. 38, is back in Jeffreys Bay!

JEFFREYS BAY, South Africa (Tuesday, July 12, 2011) – Cory Lopez (USA), 34, current ASP World No. 38, has gained entry into the Billabong Pro Jeffreys Bay, Stop No. 4 of 11 on the ASP World Title season, with the withdrawal of Dane Reynolds (USA), 25. While Reynolds has yet to provide a reason for his withdrawal from the event, Lopez who traveled from nearby Durban where he was in town for the Mr Price Pro, stands to benefit largely from this opportunity to increase his ASP World Rating as we approach the September rotation. ASP tracked down the progressive goofy-footer as he arrived on Pepper Street to see what his state of mind is approaching the commencement of the Billabong Pro Jeffreys Bay. This…is his story…
You found out this morning that you've been seeded into the Billabong Pro Jeffreys Bay – your first impressions?

I haven't been to J-Bay in probably three or four years so it's nice to be back and I'm really hoping the swell will come in. I love this wave. It's a lot of fun, but we obviously need some swell. So hopefully it shows up and we can have a good event.


What are the challenges to being a goofy-footer out at Jeffreys Bay?

When the waves are small at J-Bay, it's really difficult to surf backside. It becomes a challenge to fit your turns in the pocket as it breaks so fast down the line. It really then benefits guys on their forehand when it's smaller. You really need a proper swell to set up a good backside bottom turn. So I'm hoping it gets big as it's a lot more fun for us goofies and a lot more fun for me.
With a good result here, you could feasibly be within the Top 32 on the ASP World Rankings for the September cutoff – your thoughts?
I'm definitely looking for a big result. If I can make two heats here, it will help my position on the World Ranking. I'll probably be borderline after that, and three heats, I'd probably be pretty sweet. So I'd love to get a result here, and it just comes down to catching a few good waves in my heat, so I'm focusing on that first.

What kind of boards are you packing for the event?
I've got the same quiver I've had for the last couple of months. I've got around six boards with me – same boards I brought to Portugal and in Ballito. I've got a few Whiplash models with a bit more rocker so if it's small, I can fit turns into the transition a lot better.

Watch Cory do battle with the rest of the ASP Top 34 LIVE at the BILLABONG PRO JEFFREYS BAY
---
Mr. Price Pro PRIME Event Balito South Africa
The Highest of Highs and Lowest of Lows (from 'Tens' to 'Twos' in Balito)
Balito was on fire! Best contest of the year so far. Almost every heat of the event had guys getting barreled out of their minds. I had just woke up the first day to look out my room and witness Josh Kerr getting completely shacked, wave after wave like he was in a free surf. A few heats later I was on the beach to witness Kolohe Andino nail a ten (10 point ride) on a really nice long tube. By my heat the wind had come on shore and the tubes were getting hard to find. Luckily for me I found a good one and also received a ten and a spot in the next round. My next heat, I wouldn't be so lucky as I finished with a two point total. Basically I never really rode a wave. The rest of the event went off. It was torture watching as every heat the waves were just pumping. The lame thing was that by the time each day the event was over, the wind would be onshore. The final came down to Pat Gudauskas and John Florence. Pat took the win in deteriorating conditions as the wind and rain had just kicked-up for the final. One hour later however and that wind had turned offshore and the surf started to pump once again. I surfed from 1:30 pm till dark. That surf was amazing - all the boys were getting really nice pits. It was by far one of the best sessions of my year.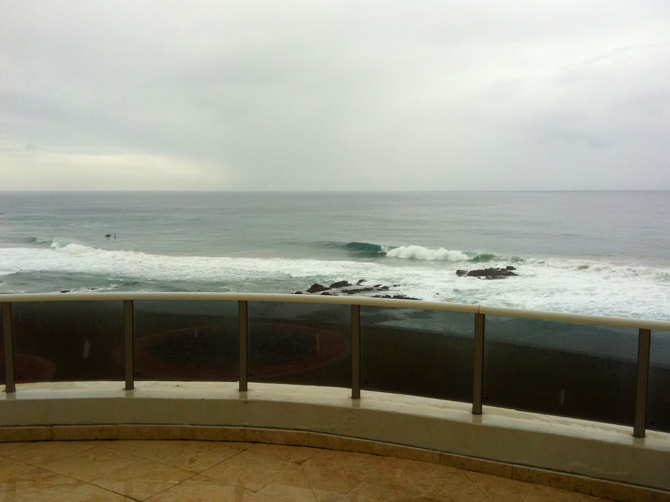 Kerr's Heat from our balcony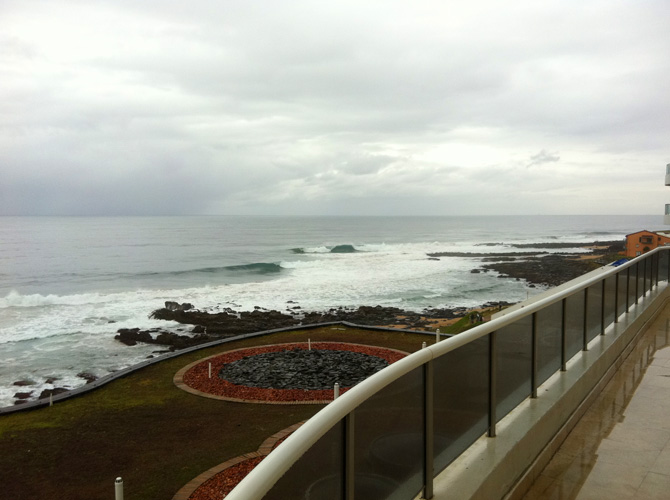 Fun waves just to the right of the contest site
---
Cory Lopez Scores Perfect 10.0 Point Ride Wins Round 1 Heat
as Massive Swell lights up Mr. Price Pro Ballito PRIME
July 4th, 2011 - Ballito, South Africa - Cory Lopez (USA, Florida) won his first Round Heat at the Mr. Price Pro, PRIME Ballito, scoring a perfect 10.0 ride in solid 6-8 foot barrels; one of only two such rides in the opening rounds of competition! A 10.0 ride is even more significant, as normally only a handful of 10.0 rides are handed out all year long on the ASP World Tour, with an average of only 1-2 per event.
With 1977 World Champion, Shaun Tomson commenting the Heat, Cory Lopez became the 2nd Lopez brother in ten years to score a perfect 10 point ride for a deep backside barrel in South Africa; following older brother Shea's ride at the Billabong Pro J-Bay in 2001 for a deep stand-up barrel at the famed right hand Point Break of Jeffreys Bay.
Cory showed off his backhand barrel riding skills on a throaty wind affected wave, dropping straight into a four second barrel to earn only the second perfect 10-point ride of the day.
"I was lucky to get that wave," Lopez said. "It was big and gnarly, the first part was nice and open but then it got all foamy and I couldn't see in front of me. I just closed my eyes, held my rail and came out! "

Returning to Ballito for the first time in 15 years, Lopez sailed into the next round with 14.97 (out of a possible 20.00).
"It's such a beautiful place with a great little beach community and today was some of the best waves I've seen on tour all year," Lopez said. "It's great to have waves like this at a contest."
An important stop on the ASP PRIME series, the Mr. Price Pro (formerly the Gunston 500) is the longest running professional surfing event in South Africa and one of the oldest running pro contests in the world. Both Cory and Shea were finalists at the Mr. Price Pro in 2001, with big brother Shea earning a 2nd place finish to Cory's 3rd. With today's result, it is likely that Shea and Cory Lopez could be the only brother duo to both score a 'Perfect 10' at a major ASP event in South Africa.
 For more info on Cory's bid to requalify for the ASP mid year cut and to view a gallery of images from Cory's outstanding career, check out his recent exclusive interview on ESPN.com
Contest Day-1 YouTube Highlights: Cory's 10.0 Ride is the "last wave" in this highlights package.
Cory's 10 Point Ride 3:20
---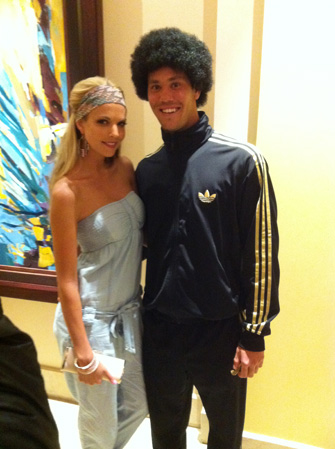 Jordy Smith and Lyndall at the Zig Zag South African Surfing Awards. It was a '70's theme... What a blast!
Shaun Tomson gets inducted to the SA Surfing Hall of Fame. Cool night - lots of fun...
---
| | |
| --- | --- |
| | Leaving Daytona Beach (en route to SA) I can actually see my house in the distance. |
---
Ericera Portugal
2011 Quiksilver Pro - 6 Star PRIME Event
Final Placing: = 9th
It's been a while since I have been to Portugal. I have spent some time there in the past but that was a few years ago. Upon arrival I was stoked on the new freeway straight to the beach. Only a forty minute drive now. The first day we arrived the waves were flat so I thought I'd use the time to find a sick beach break Shea, Andy (Irons) and I used to surf. I looked for an hour then gave up when I realized the wave was next to Figar de Foz not Ericera. What a bummer - wrong town! That wave is so fun too. The waves came up the next day and when CJ Hobgood arrived in the morning we figured it was a good time to go for a warm up surf. We surfed a really fun left, almost slab thing and everyone was doing airs. John Florence did the sickest air to fin break. I think he broke two and that was his good board too. The comp started the next day and the waves were fun. CJ had the first heat of the day. He was surfing amazing and I think he should have made it. Unfortunately I'm not a judge and he lost by a small margin Eric also had a shocker in his heat and could not find a wave. Me and Nat made our heats with Nat getting the highest score of the day. Gabe Kling finally showed up as his flight was canceled the day before. Luckily for him he was in one of the last heats and wouldn't surf the first day. Day two saw Gabe and Nat go down and with me and John the last two going from our house it was up to us to represent the "team". The next few days went smooth with me and John making our heats. I ended up with a ninth place, losing in the round before the quarters. John was killing it, surfing like he was going to get the win. Unfortunately he lost his rhythm in the semis and finished with a third. All in all I had a great time in Portugal the country was awesome, we had some fun waves, ate some great steaks and left with an OK result. I'm in a plane on my way to South Africa now for the Mr. Price Pro PRIME event. I need a big result to get inside the (top) 32. The time is now with only two Primes left.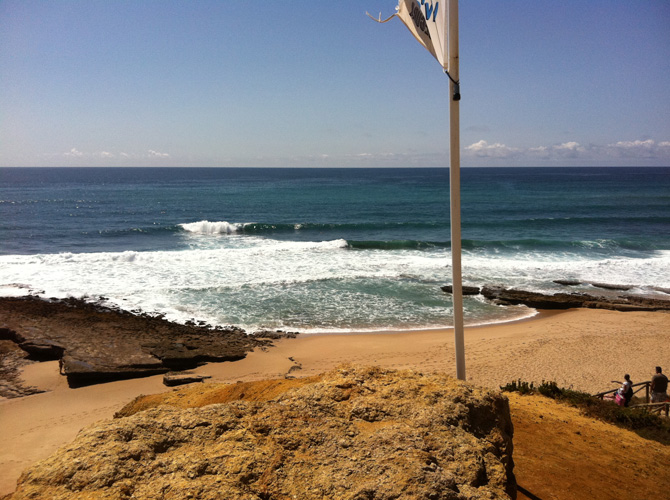 (Above) The Fun Left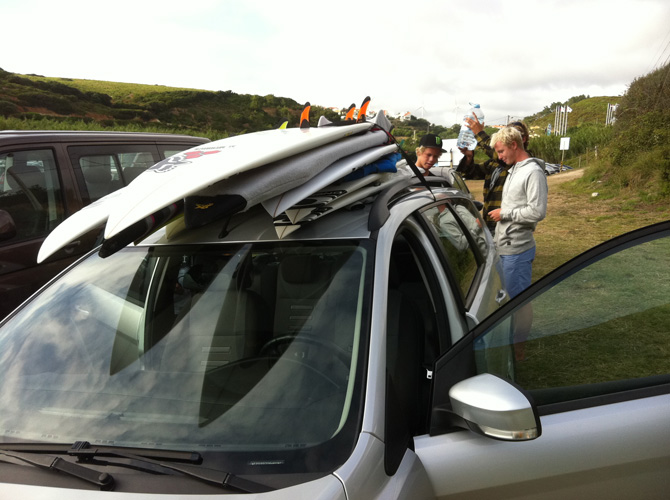 Loading Up The Car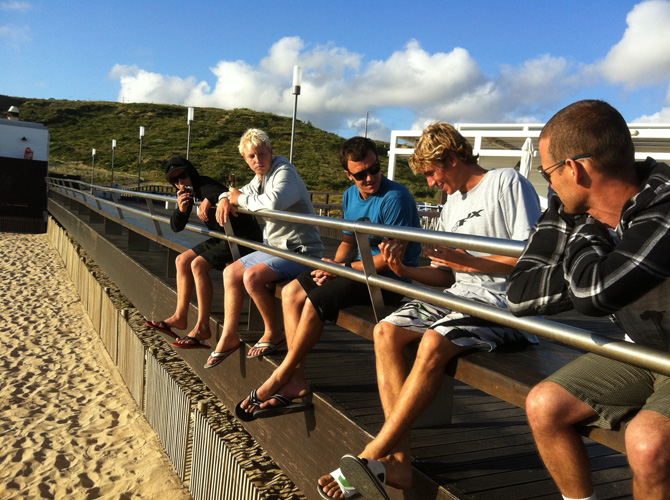 'The Boys' (Hangin at the Rail)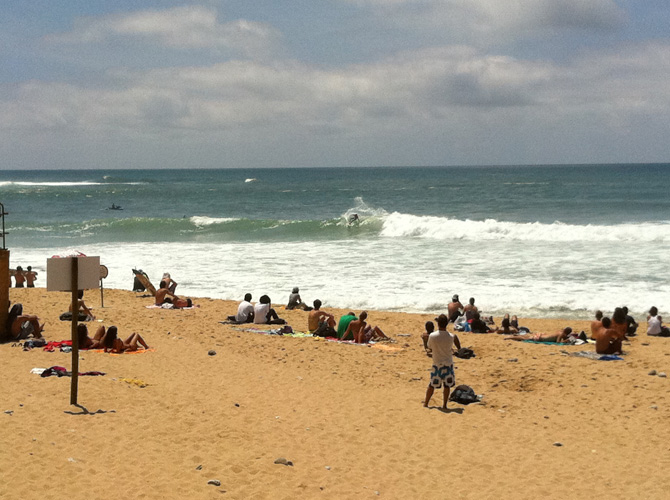 Event Winner Julian Wilson (Surfing)
---
Cory Highlights Round of 24 Heat #1. 6/17
---
Cory Lopez won his Round One Heat at the Quiksilver Pro PRIME Portugal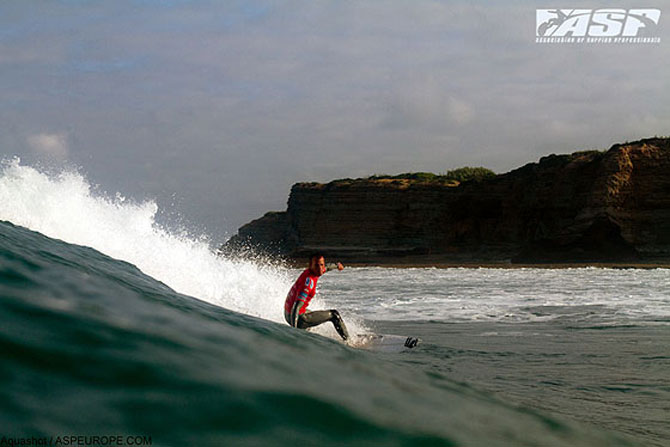 Watch Cory contest Round Two when the contest resumes... 
---
Imbatuba, Brazil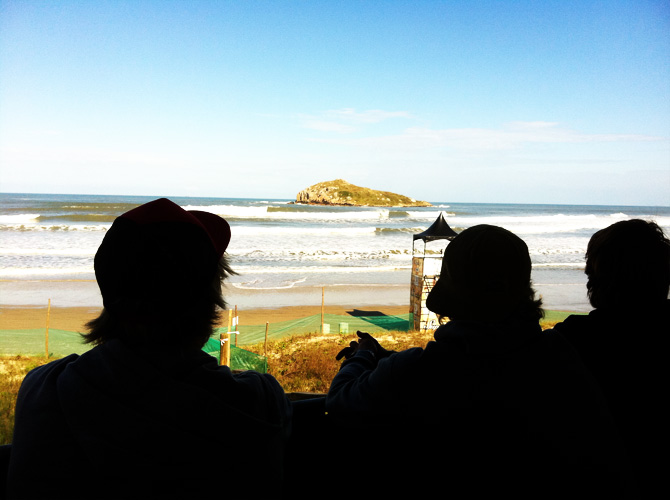 (Above) This was the first day and the best day of the comp at Imbatuba.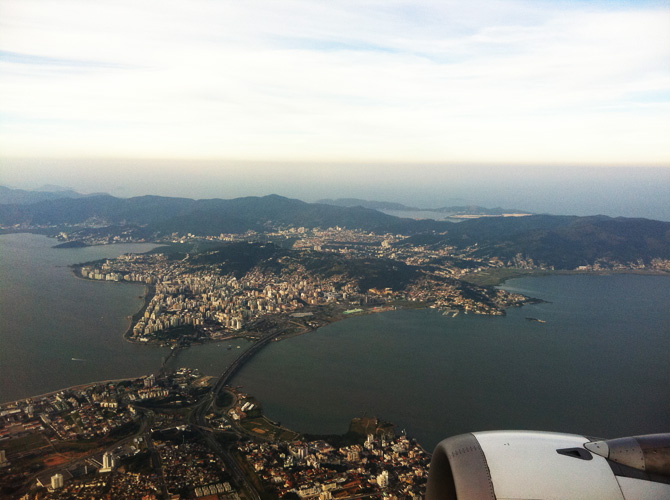 Leaving Florinapolis on the flight home.

Imbatuba was the third contest I did after spending a month in Brazil. This stop also had the worst waves, as the sandbar absolutely sucked. I ended-up having an early exit at this event, but also got to go home early. I think that after being away from home for so long, I was having a hard time staying positive at this event. I kept thinking, if I lose, at least I get to go home a little earlier then planned. I don't believe that's why I lost though. I lost at Imbatuba because I blew a good right in my heat. I simply should have surfed the wave better.
 
All in all, Brazil was fun and I caught my best waves in Rio. Saquarema had a sick sandbar but was too crowded to really enjoy. I went straight from Brazil to Cali to pick up the wife and kids (who had been at grandma's house in San Diego). I am now on a flight home to Florida for two whole days before I'm off again - this time to Portugal for another ASP PRIME event. This year has required a crazy amount of travelling, but it's what I do and I love it!
 

| | |
| --- | --- |
| | My wife, Jenn and I at one of the Rays vs. Angels series in Anaheim that the TB Rays swept! |
Check out my interview on ESPN Action Sports...
http://espn.go.com/action/surfing/news/story?page=Cory-Lopez-interview-2011
Cory Lopez 2011 ASP Comp Highlights through Brazil...
 
1) Volcom Pipeline Pro =9th 5 Star WQS
2) Quiksilver Pro Snapper Rocks =13th World Tour
3) Nike Lowers Pro =13th 6-Star PRIME
4) Billabong Rio Pro =13th World Tour
5) Coca-Cola/Oakley - Saquarema Pro = 9th 6-Star PRIME
Cory Lopez Scored Top 5 Over-all Heat Total of Entire Event at Coca-Cola/ Oakley Pro!
---
Contest Winner Announced!
Rockstar is stoked to announce the 1st winner of my Facebook 'Cory Lopez Summer Give-Away Contest';

Alan Castro

. Congrats Alan - way to go!
---
Cory Lopez 2011 ASP Comp Result Highlights through Brazil...
 
1) Volcom Pipeline Pro =9th 4 Star WQS
2) Quiksilver Pro Snapper Rocks =13th World Tour
3) Nike Lowers Pro =13th 6-Star PRIME
4) Billabong Rio Pro =13th World Tour
5) Coca-Cola/Oakley - Saquarema Pro = 9th 6-Star PRIME

Cory Lopez Scored Top 5 Over-all Heat Total of 

Entire Event at Coca-Cola/ Oakley Pro!

num

total

best

competitor

heat#

round

%
| | | | | | | |
| --- | --- | --- | --- | --- | --- | --- |
| 5 | 16.64 | 2 | Cory Lopez | 7 | Round of 96 | 83.20% |
---
Sunday 5/29/11 Saquarema Brazil
The comp has been called off for the day as the waves are just too big and out off control.
I'm still in the event and hoping for a strong finish on Monday.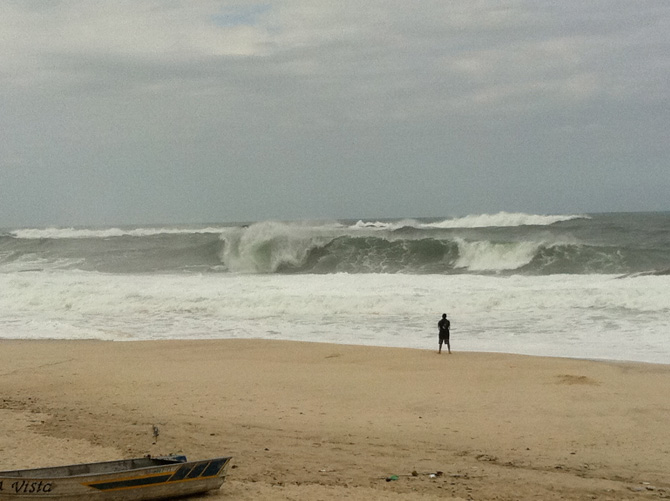 This wave is straight behind the hotel. The right is actually a wave, but not today -
it's way too big. The sets were closing out the whole bay, out the back.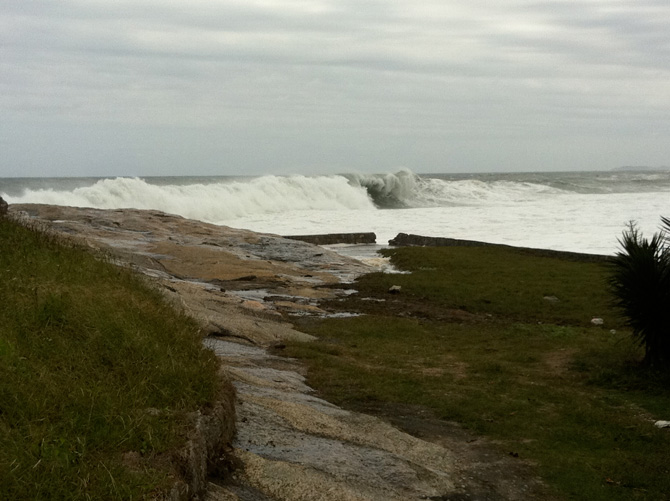 Here is another chunky one a few miles down the road.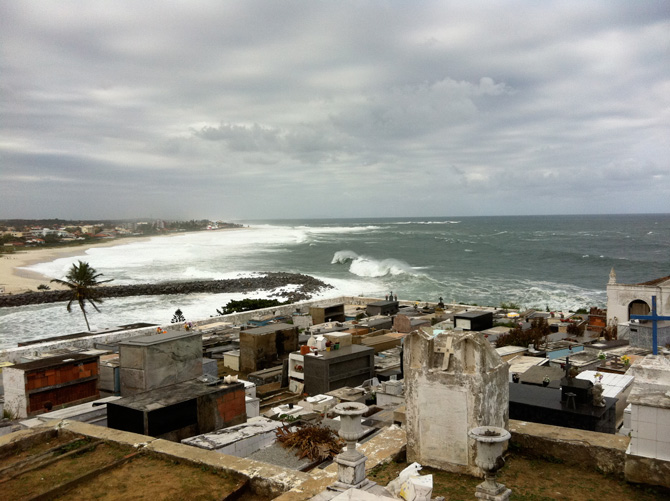 View from the church/cemetery on the hill. Sure glad I did not have to surf in that ocean today.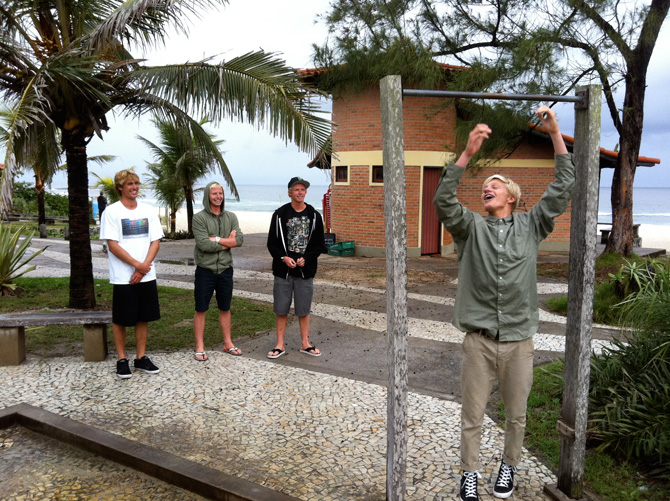 ---
Brazil Post ASP Comp Update
Billabong Rio Pro
Note: Cory won his Round 1 Heat and progressed directly
into Round 3 for an =13th Finish against eventual event 'Runner-up', Taj Burrow
Brazil has been fun. Although I did crap in the WT comp and totally blew my Round 3 Heat against Taj. The lame thing is I felt amazing out there and even had fun in the heat. I just caught the wrong waves to get the big scores. Taj caught the two good waves of the heat and got the job done. My congratulations go out to Adriano for for his big win in his home country. What a feeling it must be to win in front of all his people. Aside from blowing my heat, I have had a lot of fun down here. I've been surfing with Gabe, Jordy, Pat and the Hobgoods everyday. The waves have been really fun, anywhere from head high to a few feet over head. We have mostly been surfing a left wedge, "tubey" thing  and a few other sand bars around town. We were fortunate that Rio showed us some swell and we were able to have such a good time.

In other news CJ had a bad wipe out yesterday and got a concussion that sent him to the hospital. He was later released and doing fine. Damo had to wake him up every two hours last night, so the boys may be a little tired today.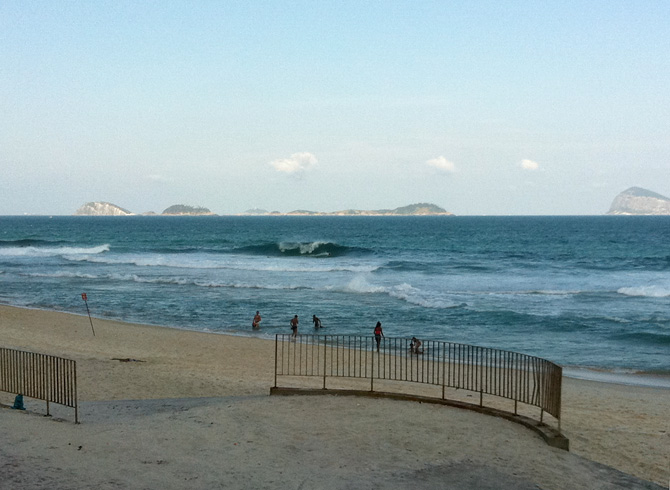 A smaller day at the wedge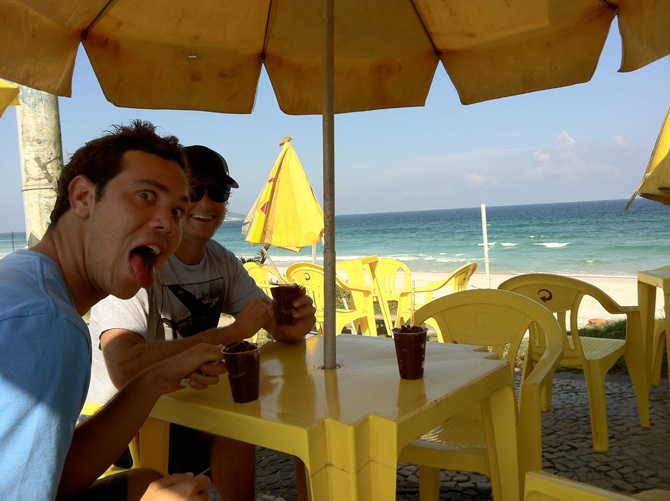 Jordy and Garth enjoying one of the best things about Brazil, Acai.
After surfing all morning we returned just in time to catch the finals.
This was our perspective.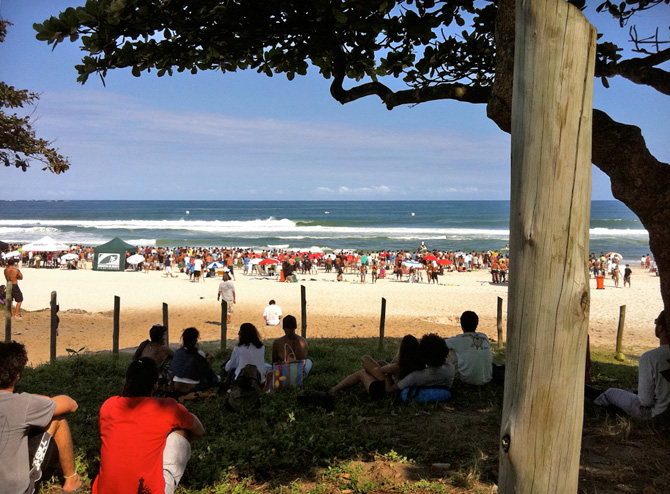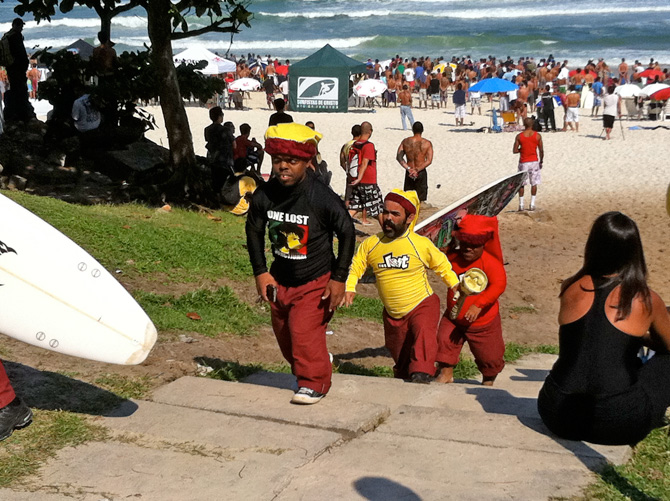 The 'Lost...'  Brazil team getting ready to celebrate Adriano's victory...
---
Brazil, three days in...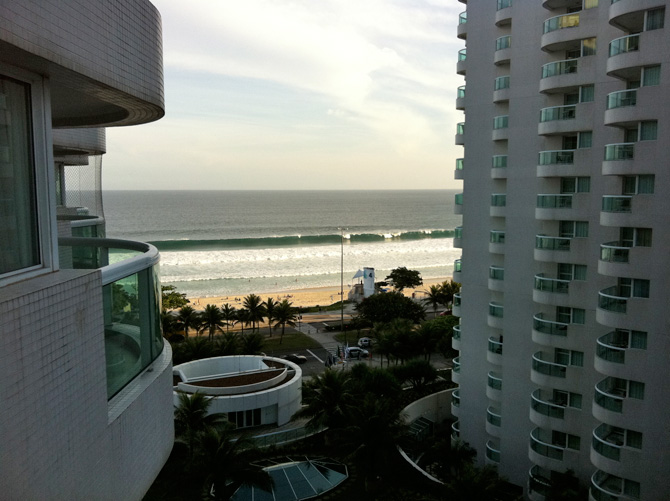 View from our room. The contest site is to the left just out of sight.
There has been plenty of swell here in Brazil. Monday was a little big and closed out so I just chilled and recovered from the flight. Tuesday was a fun warm up day for the comp. The waves were in the head high range and everyone was ripping. Today (Wednesday) is the first day of the waiting period and the waves were too big and closed out to start the contest. The crazy thing is that about one mile up the beach the waves were really fun and guys were getting barreled all morning. Jordy (Smith) and I paddled out there a little late when the wind was already on it, but we still caught some fun waves nonetheless.  We ended the day with a little (poster signing) promo at a cool local surf shop in Copa Cabana. All the groms there were stoked to have team O'Neill in their town. It's getting late and the comp should be on tomorrow... time for sleep.
 
-Cory
---
The Billabong Rio Pro Starts on May 11, 2011
 Cory Lopez Gets start in 3rd consecutive major ASP World Tour event of the year...!

The Billabong Rio Pro holds a waiting period from May 11 through 22 and is webcast LIVE via http://www.billabongpro.com
For additional ASP information log on to www.aspworldtour.com or www.aspnorthamerica.org
BILLABONG RIO PRO ROUND 1 MATCH-UPS:
Heat 1: Owen Wright (AUS), Heitor Alves (BRA), Bobby Martinez (USA)
Heat 2: Adrian Buchan (AUS), Adam Melling (AUS), Kai Otton (AUS)
Heat 3: Taj Burrow (AUS), Alejo Muniz (BRA), TBA
Heat 4: Mick Fanning (AUS), Dusty Payne (HAW), TBA
Heat 5: Jordy Smith (ZAF), Patrick Gudauskas (USA), TBA
Heat 6: Kelly Slater (USA), Julian Wilson (AUS), TBA
Heat 7: Bede Durbidge (AUS), Jadson Andre (BRA), Gabe Kling (USA)
Heat 8: Jeremy Flores (FRA), C.J. Hobgood (USA), Josh Kerr (AUS)
Heat 9: Damien Hobgood (USA), Tiago Pires (PRT), Raoni Monteiro (BRA)
Heat 10: Michel Bourez (PYF), Chris Davidson (AUS), Cory Lopez (USA)
Heat 11: Adriano de Souza (BRA), Kieren Perrow (AUS), Daniel Ross (AUS)
Heat 12: Joel Parkinson (AUS), Matt Wilkinson (AUS), Taylor Knox (USA)
---
FROM TRESTLES AND BACK TO BRAZIL
Nike 6.0 Lower Trestles (ASP 6 Star PRIME) Final Score = 13th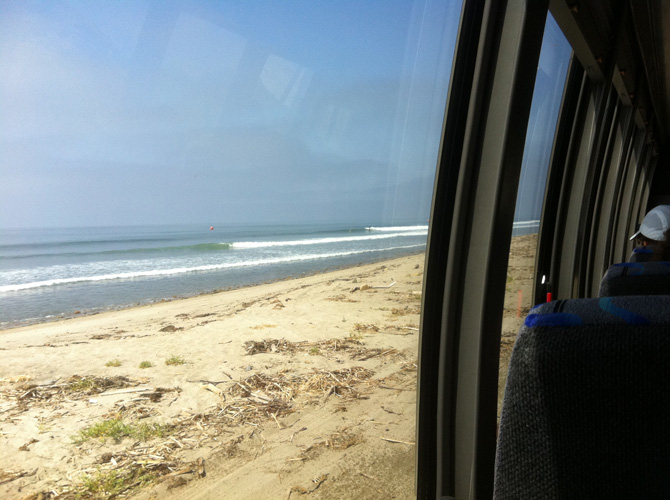 View from the shuttle on the down to lowers.
Finally an event I didn't have to fly twenty plus hours to get to. I have spent a lot of time in San Clemente over the years. So it's kinda like home.
The swell forecast was not looking good, but there was a nice North West wind swell before the comp started. While the NW may miss San Clemente, it certainly  doesn't miss San Diego. I did most my warm ups for the comp down south where the waves were really fun. I felt good. Matt Biolos (Mayhem) got me some sick new (Placebo) boards for the comp and I really felt on. A small south did show up just in time for the first day of competition.
 
My first heat went well as I utilized the fun left handers to get my scores. My second heat.., well, that was a heavy one. I had the "people's champ", Mr. Dane Reynolds, rising Brazilian "super star", Alejo Muniz and Australian, Nic Muscraft. Me and Alejo got off to quick starts, putting up two decent scores each in the first ten minutes. Reynolds was having a shocker, not able to find a wave. For most the heat Alejo and I had control but with around five to go, Nic got back in the game. Now, needing only a six five, I new I had to keep Nic off a good one. The ocean was cooperating nicely going absolutely flat. But then with ten seconds to go a bomb wave lurked up and the battle for it was on. Nic and I paddle battled to the peak. Where we both stood up at the same time he wanted the right and I just wanted to keep him of the wave. We collided in a crisscross with me going down. Luckily for me I was deemed to have been in the right spot for the left and Nic was given the interference.
 
I was now on to the man on man round against Brazilian, William Cordosa. This would turn out to be a frustrating heat for me. My first wave I felt insane so I just couldn't wait to catch a good one. I did catch some decent waves but for some reason I just misread them and did the wrong maneuvers in the wrong places on them. At the end I only needed a six point eight to win. I caught a wave hit the lip then did a straight air thinking I would land and then get to hit it one more time. Unfortunately I could not get that one more move as it closed out to fast. My score came in as a six point seven and I lost in a tie breaker.
 
I misread three waves that heat that could have been my scores. The last wave could have been it with an air, (plus) three (more turns) to finish; but that's How it goes. Split second decisions and you can't always make the right one. This is my second tie in the last three events and at Bells I lost by point two (0.02). I am hoping that soon I can be on the other side of some of these close ones. I am currently on a plane to Rio for the next ASP WT event and two 6 Star PRIMES. Three events, one month in Brazil and hopefully I find myself with the results I have been looking for.
-Cory
---
THE RIP CURL PRO, BELLS BEACH, AUSTRALIA
Bells, or should I call it "Hells Bells". Because for me that's how I felt leaving that place. Just a little bit bitter I'd say (after flying back to Oz and being displaced in Round 2 of the event). Enough of the negative; here is some of the highlights of my Bells trip...
The trip down on Delta was nice. The plane was a brand new 777 with the most leg room in coach I have ever seen. That was a bonus. I was staying with Jordy and Garth Tarlow from O'Neill on this trip. The big dogs. We had an insane house that overlooked the ocean and with the forecast for plenty of waves to come, I was stoked.
 
The first few days were small, so we surfed some other spots just outside of town that picked up more swell. With a few fun surfs under my belt I was warmed up and ready for the comp. My first heat was going to be against one of my all time favorite surfers Taylor Knox and Jeremy Flores.
 
Jeremy (who some expected to be a no show, due to a recent knee injury) actually won that heat, as neither Taylor or I could find any waves to perform on. It was frustrating because a really good set did come in. Unfortunately I caught the wrong one, to then watch the next three in a row fire off with no one on them (as we were all out of position). After that heat, both Jordy and I went home to regroup (as he lost his 1st Round Heat as well) and get ready for a free surf on some new boards. We both were pretty frustrated and wanted to get back in the water to redeem ourselves. We surfed Winki that afternoon and it was going off! Jordy was on fire, just laying down big turn after big turn on all four brand new boards that he rode that session. I rode a new board as well but decided I would stick to old faithful for the comp the next day.
Round Two, Day Two and Winki was as good as it gets. Blowing away Bells as it usually does. Jordy had heat one against local favorite and past finalist Adam Robertson. Jordy took him down in a high scoring affair that saw the both of them get some nice barrels. My heat was a few hours later and the wind had turned ever so slightly from behind the wave creating a bump on the face. I had fellow Rockstar and Freestyle team mate, Bede Durbidge who is a great guy and always a tough competitor. The heat started with Bede scoring a 6.5 on a nice floater and a sneaky little tube. Not so sure what my scores were but I caught some really fun waves over the next 25 minutes and with Bede not ever really getting a good back up score I thought I would get the win. However I guess it was not meant to be and so as I said earlier I left Bells more than a little bitter. On the flip side of that, as my wife put it, I was able to spend Easter with my family. And the waves have been pumping ever since I got home. Imagine that, "Florida pumping"...!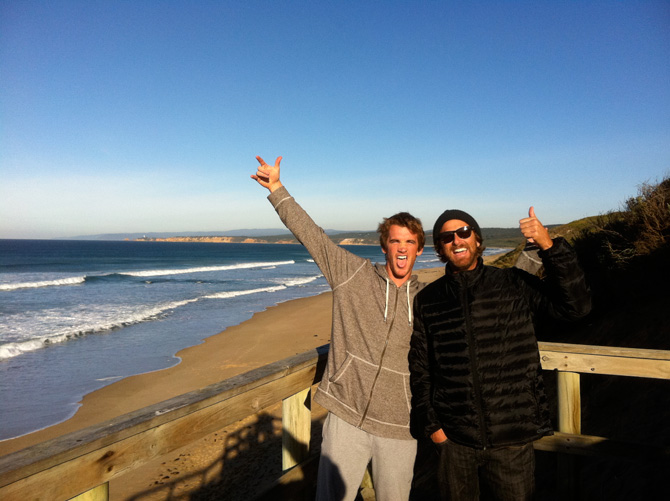 Brett Simpson and Garth Tarlow; Dawn patrol up the coast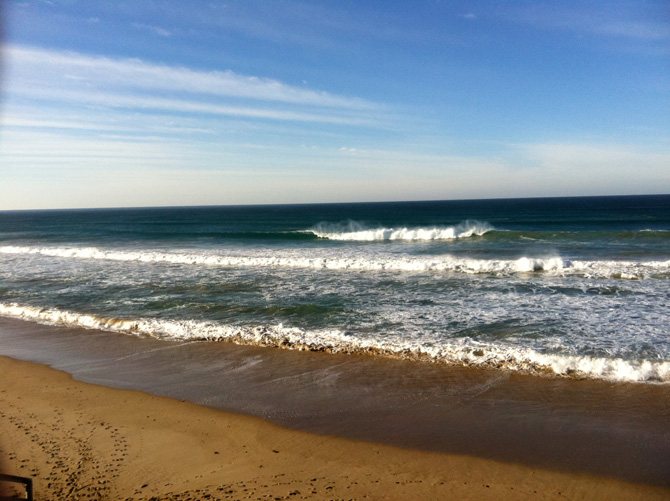 The left we surfed... the right was more of a hoax.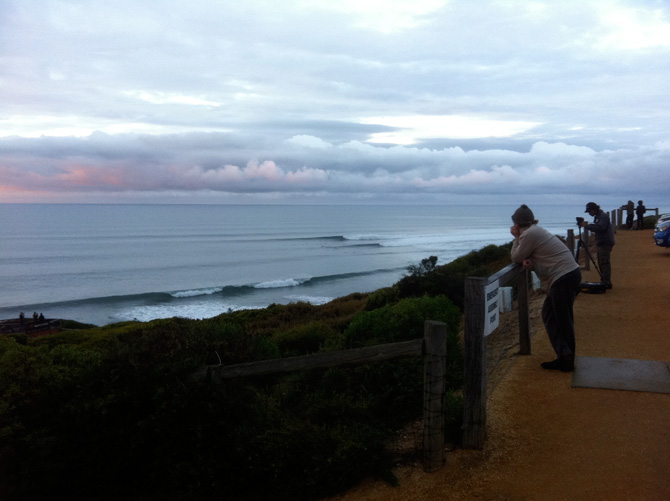 Bells early morning
The beautiful flight home.

My next Comp will be the Nike 6.0 Prime at Lower Trestles in Southern California and there's a reasonable chance I might get a start in the next ASP World Tour event in Brazil - stay tuned to my Blog for more comp updates and info on my upcoming Rockstar/O'Neill Facebook Promotion... coming soon!


 
Cory's upcoming ASP event schedule  
(3 back to back events in Brazil)*
1) Nike 6.0 Lowers, California; May 3-7 (PRIME)
2) Billabong Rio Pro, Brazil; May 11-22 (WORLD TOUR) Possible Alternate, Pending Confirmation from ASP*
3) Saquarema Surf Pro International, Brazil; May 24-29 (PRIME)
4) Super Surf International, Brazil; May 25 - June 5 (PRIME)
 
For More info on the above events - log-on to: www.aspworldtour.com
---
Flew home  from W.A. for a few days with the fam. All too soon and I'm already packing to head back to Australia for the Bells comp. Fingers crossed - I need another result.
- Cory
---
Cory and friends go Over the Falls...
A few cool shots from the O'Neill CWC Tasmania 2010 archives.
Photos: Mark Prefontaine/O'Neill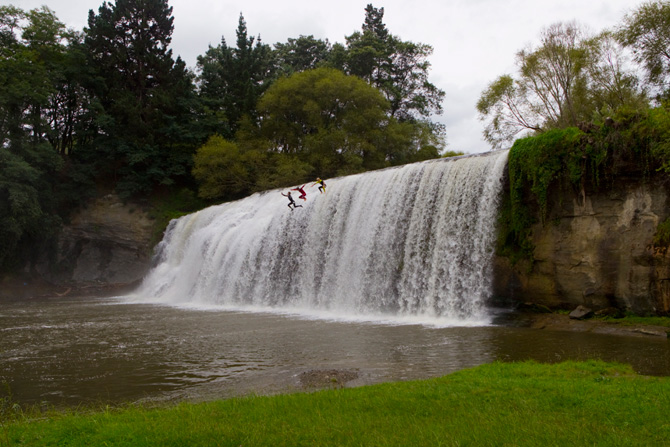 The waterfall jump was one of the highlights of my O'Neill CWC 2011 New Zealand trip.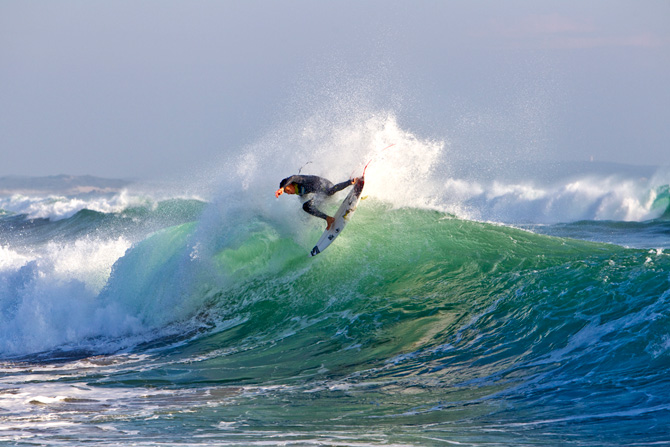 2 surf shots from TAZ are from the O'Neill archives, taken during last year's CWC in Tasmania.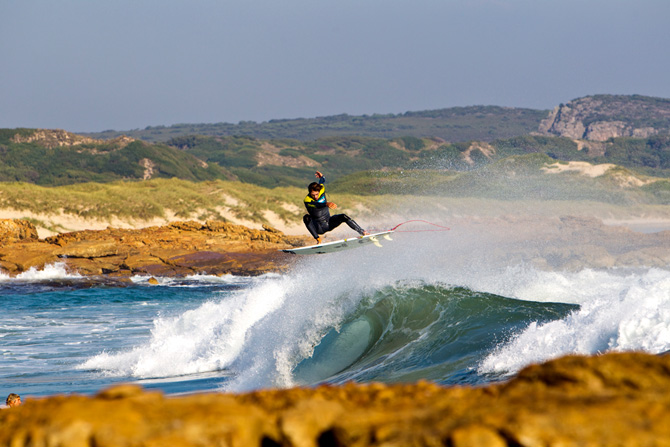 In 2010, Cory placed an incredible #10 on the Transworld Surf Media Exposure (Exposuremeter) Final 2010 rankings for editorial exposure in the surf mags - finishing ahead former world champ, Mick Fanning.

Cory started off 2011 strong, with an O'Neill trip to Morocco (where they scored incredible surf!) and followed with a solid 9th place finish at the 5 Star Volcom Pipeline Pro in Hawaii. Scroll below for Cory's running commentary from the ASP World Tour, cool pics and videos; along with feature links from O'Neill's trip to Morocco, Cory's Trailer and Final Cut from Taylor Steele's new movie 'Innersection' and ESPN Video Link of Cory with 10X World Champ Kelly Slater in Costa Rica...!





Photo: RUSSO / Rockstar Energy Drink
Taken during the Volcom Pipe Pro when
Cory placed 9th (Free Surf).
---
Cory Lopez & Kelly Slater @ Secret Rivermouth Point Break
South of the Border - Centro America...
 
From ESPN Surfing - ESPN.com
 
http://espn.go.com/action/surfing/blog/_/post/6074260/southbound-slater-lopez
Southbound with Slater and Lopez

Posted By Jake Howard
Central America, it's a trip most every gringo surfer is duty-bound to make. Bored with our state park campgrounds and coastal highways, it's our closest exotic. But after a few trips, you'd think the typical A-list pro would have graduated from mid-latitude waters to greater surfing grounds further afield. Costa Rica's for college kids and old guys, right? Na. Kelly Slater and Cory Lopez still have roots. In the case of the two Florida boys that means -- and always will mean -- trading doldrums for a tactical strike down south. How could that ever get old?
Cory Lopez Innersection Final Cut
http://vimeo.com/20210849
 
 
CORY LOPEZ INNERSECTION TRAILER
http://vimeo.com/16978774
Cory Lopez: 10X World Champ, Kelly Slater's comment about Cory and his "unique" lines on a wave are spot on. This part shows he is still one of the most creative surfers in the world right now and continues to keep pace with the younger guys in the air. Not to mention his big-wave/barrel riding tendencies. It's been a long time since Cory Lopez (if ever?) has been in a Taylor Steele project. This looks like a good place to start... http://vimeo.com/16978774
For stats, videos & cool pics, check out Cory's Sponsor Profile & Blog Pages via the following Links...
Cory Sponsor/Team Athlete Profile & Blog Links:
O'Neill Athlete Profile
http://www.oneill.com/#/men/americacanada/teamriders/g.global_team%7Ccory_lopez/
www.oneill.com
www.twitter.com/TeamONeill
www.facebook.com/ONeill
Rockstar Energy Drink
http://www.rockstarsurfing.com/author/corylopez/
http://www.rockstarsurfing.com/
http://www.facebook.com/rockstar
Freestyle Watch
http://www.freestyleusa.com/team/member/1/Cory+Lopez
http://www.freestyleusa.com/blog/
Anarchy Eyewear
http://www.anarchyeyewear.com/team/surf/cory-lopez.html
Follow Cory on Twitter
http://twitter.com//corylopeylopez
_________________________________________________________
Recent coverage in Cory's local Beach Bee Newspaper & ESM...
 
Cory Lopez - Beach Bee / Belleair Bee / Tampa Bay Newspapers TBN http://www.tbnweekly.com/pubs/belleair_bee/content_articles/030211_bee-05.txt
 
ESM 'Right Side Round-Up'
http://www.easternsurf.com/rightsideroundup_030411/
---
It's Official! Cory will get a start in the second major ASP event of the
2011 World Tour as the #1 alternate at the Rip Curl Pro Bells event
(April 19-30, 2011). Go Cory!
 
Rip Curl Bells ASP Injured List:
 
Freddy P. - "Out"
Jeremy Flores - "Out"
Dane Reynolds - "Out"
 
Cory - "In"
 
The official Heat Draw will be announced soon with Cory's Heat # in the 1st non-elimination Round.
 
For more information and to watch the Rip Curl Pro Live; log-on to: http://live.ripcurl.com/index.php?bells2011

---
Cory - West Oz Competition Update from Margaret River
Even though there is a reasonable chance that Cory will get into the next World Tour Championship event at Bells Beach (Rip Curl Pro) due to Jeremy Flores knee injury; unfortunately, Cory was not able to better his 2010 5th Place finish at Margaret River. Although he lead for most of his Round of 48 Heat; he slipped to 2nd in the dying seconds and lost a tie breaker, on a count back in the last 30 seconds to end-up in a non advancing 3rd place.  A true shocker and heart breaker of a heat; even it seems for 10x World Champ and Heat Commentator Kelly Slater who kindly said, "Cory is from the Gulf Coast, that's why he charges so hard"... The waves were big and stormy and Cory gave it a valiant effort, only to come up short in the count back. To break a tie, the ASP uses the surfer's single highest wave score; which unfortunately in this case, favored Cory's opponent.
 
On to Bells for the Rip Curl Pro...? No "Official" word yet from the ASP. Check back soon for more updates and scroll below for Cory's upcoming contest schedule. Also, stay tuned for an announcement from O'Neill and Rockstar on an upcoming Facebook promotional contest that will give away some cool prizes for Cory's fans...!
---
Cory's Travel Log
I got to Margaret River (Western Australia) a few days ago. The waves were small to start with; waist to chest and kinda fun at 'Gas Bay'. Eric G. did a "Kerrupt" (flip) on a tiny wave that had me tripping. WA is almost always a good time. With so many different waves on offer, you're bound to find something good. The only problem here is that sometimes you fall victim to the "maybe it's better up the coast" syndrome; only to end-up right back where you started an hour or two earlier.
 
I just did the O'Neill Cold Water comp in New Zealand last week. My heat had really bad waves. In fact after my heat, they canceled the comp and moved it to another beach (with much better surf). I only needed a four to make my heat but the ocean didn't cooperate with me and down I went. That one hurt - I was pissed. Thankfully a few hours later someone told me that there was a left point going off on a island just down the road. Once to the wave we realized it was a "mission" to get to. I chose to paddle out to the island while Nat and Eric walked the rocks, which at low tide almost connects the island to the mainland. The waves were fun. Overhead on the sets, three to four turns a wave. Just the fix I needed after a bad loss. Aside from all of us losing fairly early in the comp we still had a blast in New Zealand. One day we jumped off a crazy water fall and rode Boogie Boards down a natural water slide; it was sick (one of the rare times you will see me on a sponge). We also found some fun waves on the east coast of NZ.
 
Unfortunately the best wave we found in NZ, we were not able to surf. It was a sick right hander breaking right off a cobblestone river mouth. It kinda looked like "Snapper" on a good day. So we pull up to the wave and with no one out, we were freaking. Now we have all heard the old saying when something's too good to be true it probably is; well this was one of those times. Now I'll be darned if not a minute later, a three hundred pound local with his entire face tattooed, pulled up behind us to very politely fill us in on the fact that there is no surfing at this beach, as there was a massive drowning in the 1900s. We were in shock we couldn't surf it but had to understand the circumstances surrounding that beach and that their culture was different than ours. We talked with the man for a few minutes took a few photos of the wave and continued our search for waves. We found plenty of fun waves that day, surfed twice, drove six hours and wound up at a sushi restaurant in Auckland for our last dinner in New Zealand before heading to Western Australia.
---
Some NZ Pics from Cory of "Perfect" Point Breaks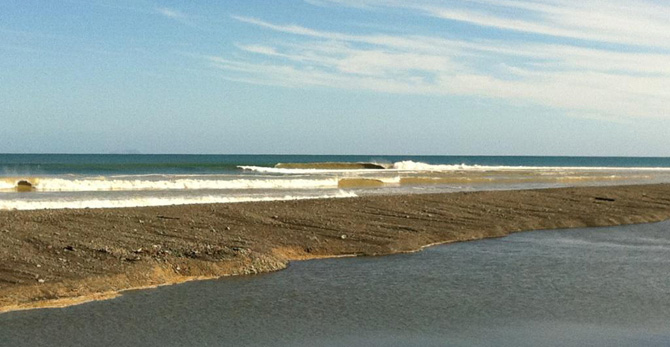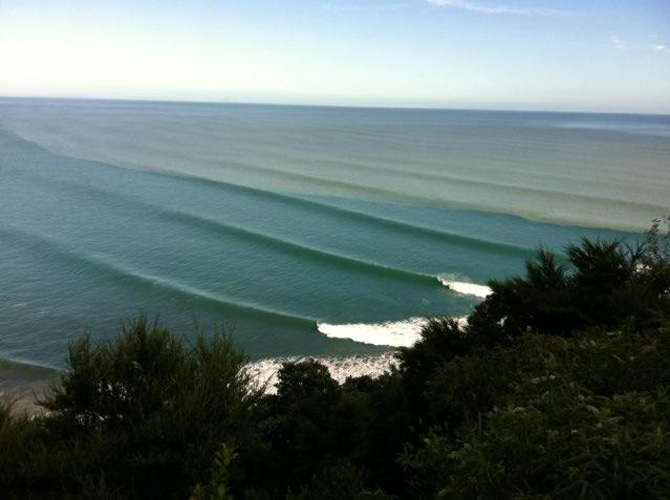 The waterfall we jumped off and played in. This is the water slide. It was sick.
---
Cory's upcoming ASP event schedule will involve some pretty serious globe trotting
(March thru May)...
 
1) O'Neill CWC New Zealand; March 23-29
2) Drug Aware Pro Margaret River, West Oz; April 4-10
3) O'Neill CWC Thurso, Scotland; April 13-19 (If Cory does not get Alt. Entry into Bells event)*
4) Rip Curl Pro Bells Australia; April 19-30 (Possible Alternate)*
5) Nike 6.0 Lowers, California; May 3-7
 
For More info on the above events - log-on to: www.aspworldtour.com
---
Back in Good Ole' Florida (For Now)...!

Cory with his daughter Alana

Snapper Rocks Wrap-up...
Jordy got me (in my Round 3 Heat)... What can I say...? That guy shreds. Snapper was small and the pocket was so tight at low tide, that it was hard on the back hand to fit my board in there. Also, I passed up the wave Jordy got his nine on. Thought it was too small of a wave; guess I was wrong.

 I'm back in good ole Fla (for now). Now my favorite place to be (until it goes flat for more than a week). Home is good and it's nice to be with the fam again. The waves have been up since I got here. I have surfed with (my brothers) Shea a few times and Matty once. Unfortunately, Matty rolled an ankle so he might be out for a few. The swell looks like it should hang around for a few more days. Time to surf. New Zealand and Margaret River coming up soon (for the 6 Star O'Neill Cold Water Classic in NZ and the Drug Aware Pro Prime event at Margaret River, Western Australia). Still awaiting word on the Rip Curl Pro at Bells. Stay tuned!

-Cory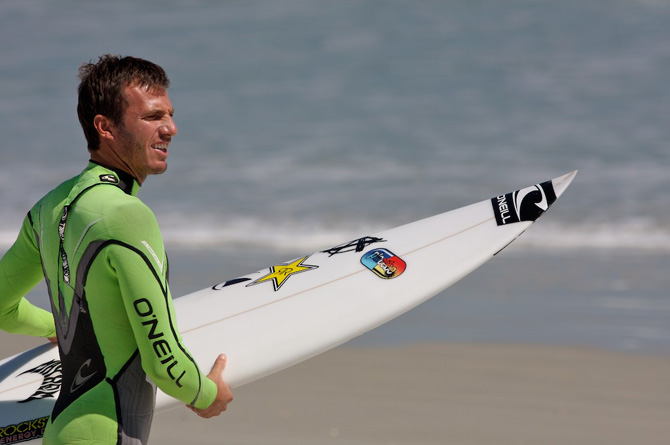 Cory - enjoying some time at home w/ the fam before hitting the Spring contest grind. Photos By TUPAT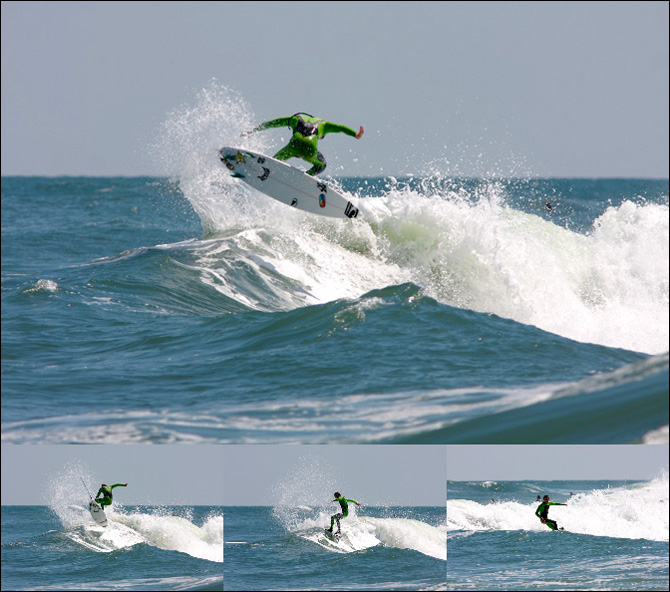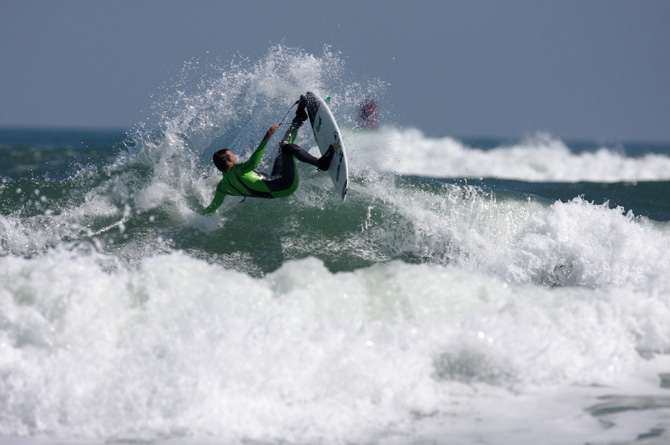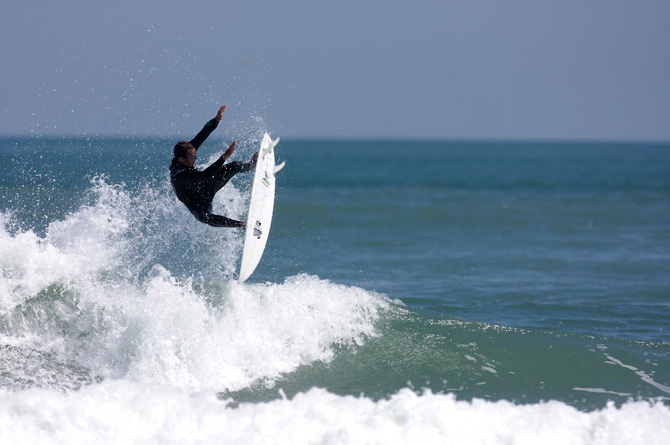 (Photo Above) Cory's brother older Shea Lopez (Bottom) Younger brother Matty Lopez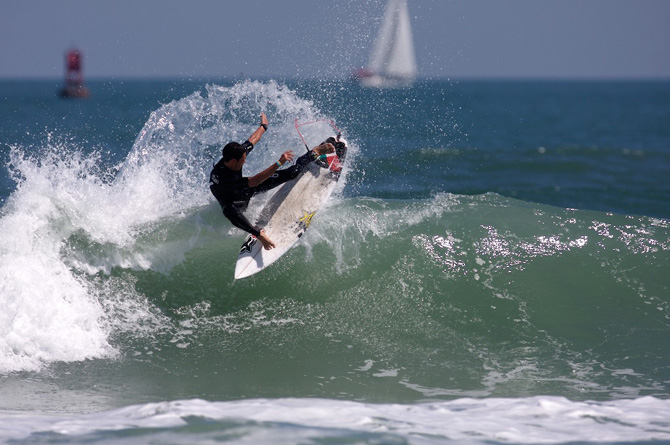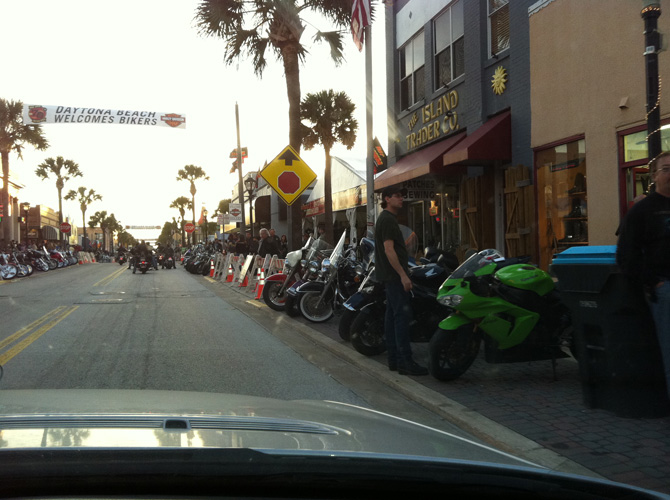 I think the bikers had some fun this week. Bike Week/Spring Break in Daytona Beach, FL
---
Round 3- Heat 7 Video Jordy Smith vs Cory Lopez
(Click Image For Video)
---
Cory - Snapper Rocks, Australia (Contest Updates)...
Well not much has been happening around here as far as waves go. The boys tell me the party seen has been good but I'm here for the event. No partying for me, just trying to stay sharp and surf every day.
Since that first swell ended it has been waist to occasional chest (high) for the last seven days. I have surfed a few fun sessions, but for the most part the surf has been pretty boring. Maybe the worst I remember in all my years of coming here. Now don't get me wrong I don't want to sound like I'm complaining. I am from the "Gulf" and this last week would have been an amazing week of waves at home. I know Skip and the boys would be sunburned and surfed out. But come-on now, this is "Surfer's Paradise" - where is the swell...? Not to worry it's on the way. At least that's what everyone keeps telling me. Come on Snapper, fire I want to get barreled in my heat! More to come - stay tuned...! The event should resume with Round 2 today (Sat or Sun)! Check out the Live Link www.quiksilverpro.com/live.en.html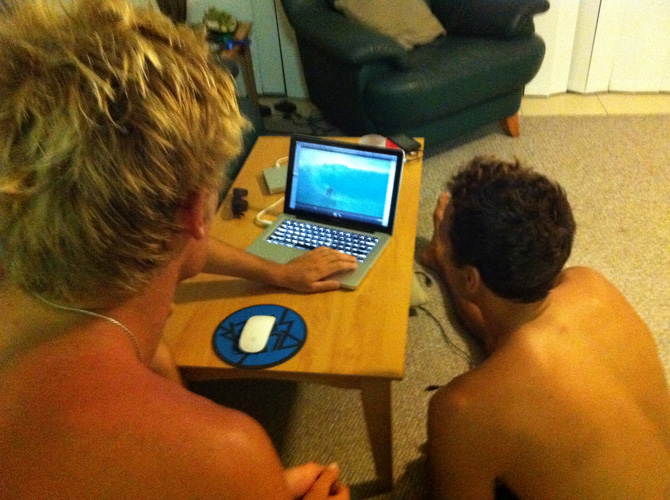 Cory's brother, Shea (Lopez) and the Gudauskas brothers checking out the new video edit for the3tree.com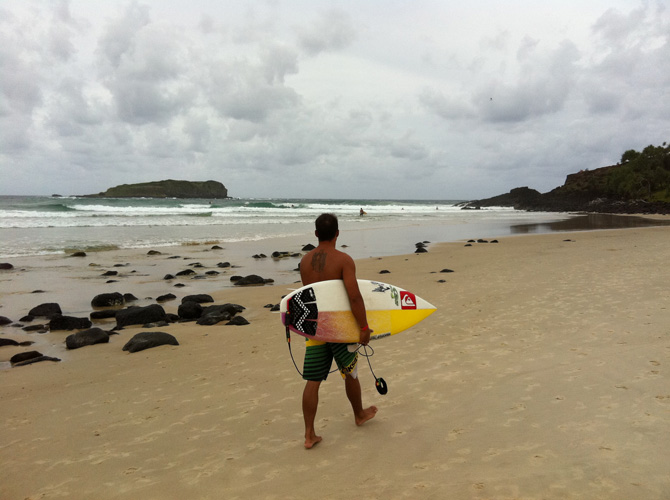 "Freddy P" psyching for a surf. It looked fun this day but my dad (Pete) would have had more fun on his longboard.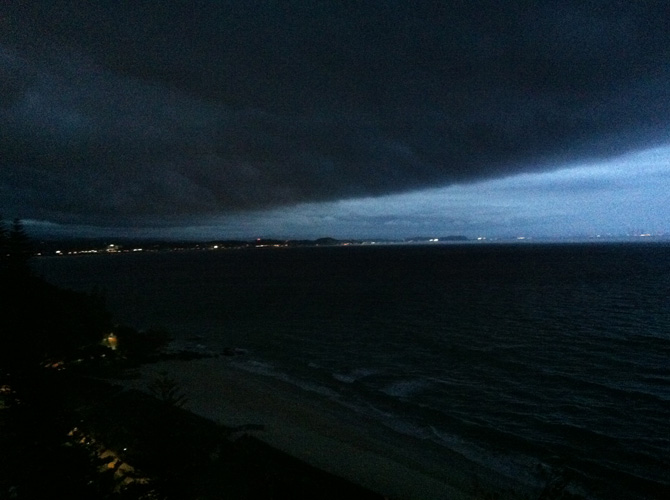 Yes we have seen a few days of rain. Weather here is similar to Florida in the summer.
Check-out Cory's recent coverage in the Beach Bee Newspaper & ESM...
 
Cory Lopez - Beach Bee / Belleair Bee / Tampa Bay Newspapers TBN http://www.tbnweekly.com/pubs/belleair_bee/content_articles/030211_bee-05.txt
 
ESM 'Right Side Round-Up'
http://www.easternsurf.com/rightsideroundup_030411/
---
Cory Lopez Ranked #13 on Elite ASP World Tour Rankings after Quiksilver Pro
Snapper Rocks, Australia...
 
After surfing the first elite ASP World Tour event of the year, the 2011 Quiksilver Pro at Snapper Rocks Australia, Feb 26 - March 6, 2011; Cory Lopez is ranked #13 on the elite 2011 ASP World Tour Rankings. Cory was surfing near the top of his game with precise barrel riding and solid backhand gouges at the tricky right hand point break, but succumbed to fellow O'Neill team rider and 2010 World #2, Jordy Smith who was able to secure the better wave selections in a hard fought Round 3 battle. An in form Jordy Smith was quoted during his post heat interview that he "was nervous" going up against Lopez, noting what he (Cory) was "capable of if given the opportunity". Even though the South African phenom (Smith) got the better of their Round 3 exchange, Lopez secured 1,750 Points and $8,500 for his efforts.
 
Cory Lopez hovered in or around the Top 10 for many years, ranking as high as #1 and finishing in the #3 spot in 2001 (after winning at Teahupoo Tahiti that same year). Stoked to be back competing at the elite level with the best surfers on the planet, the iconic Florida surfer will contest the next Prime event at Margaret River, Australia, the 'Drug Aware Pro',  April 4-10; in his bid to make the mid year qualification cut. Lopez placed 5th at this event in 2010. Depending on the progress of both Dane Reynolds and recently injured Jeremy Flores, Lopez will be awaiting word on whether he will get a start as the first Alternate in the 2nd elite World Tour event of the year, the Rip Curl Pro at Bells Beach, Australia; April 19-30.
For stats, videos & cool pics, check out Cory's Sponsor Profile & Blog Pages via the following Links...
Cory Sponsor/Team Athlete Profile & Blog Links:
O'Neill Athlete Profile
http://www.oneill.com/#/men/americacanada/teamriders/g.global_team%7Ccory_lopez/
www.oneill.com
www.twitter.com/TeamONeill
www.facebook.com/ONeill

Rockstar Energy Drink
http://www.rockstarsurfing.com/author/corylopez/
http://www.rockstarsurfing.com/
http://www.facebook.com/rockstar
Freestyle Watch
http://www.freestyleusa.com/team/member/1/Cory+Lopez
http://www.freestyleusa.com/blog/
Anarchy Eyewear
http://www.anarchyeyewear.com/team/surf/cory-lopez.html
Follow Cory on Twitter
http://twitter.com//corylopeylopez
---
Cory arrives in Australia - Down Under for the Quiky Pro @ Snapper Rocks...
Quiksilver Pro Gold Coast Pro Snapper Rocks; Day-1 (Round-1)
ASP World Tour --- Quiksilver Pro, Snapper Rocks (Australia) - I'm back. Its been three years since I was last here. The wave is the same; the town hasn't changed much other than four or five more high rises. 
  
My first surf back at Snapper feels weird after being away from the main World Tour for so long - its strange to be back. Seeing all the boys again is cool. Surfing Snapper again is definitely cool, but crowded as hell. On a few of my waves I never even did a turn as there were too many people in the way. I surf Snapper three times before the comp starts.
My boards got lost on the way home from Brazil. Lucky for me, my brother Shea, brings me four new Placebo Matt Biolas shaped boards. Two of which look good and two are too thick. The one I end up liking was made for (fellow O'Neill team rider) Bobby Martinez. Who ironically is in my heat.
  
Contest day one... Well not the start I would have liked to have in my first heat back. Mick (Fanning) opened the heat up with a low nine and followed it almost immediately with a mid five. With the ocean feeling dead after that point I went into free surf mode. Just riding waves, feeling out my board. Which maybe wasn't the smartest thing to do but heck, I just wanted to ride some waves. Instead of sitting there for the next twenty five minutes, waiting for a miracle wave that never came anyway. So I lost to Mick and Bobby in round one. Whenever the comp gets going again I have Davo (Chris Davidson) in round two. With the forecast not so good, it could be a few days till we surf again. -Cory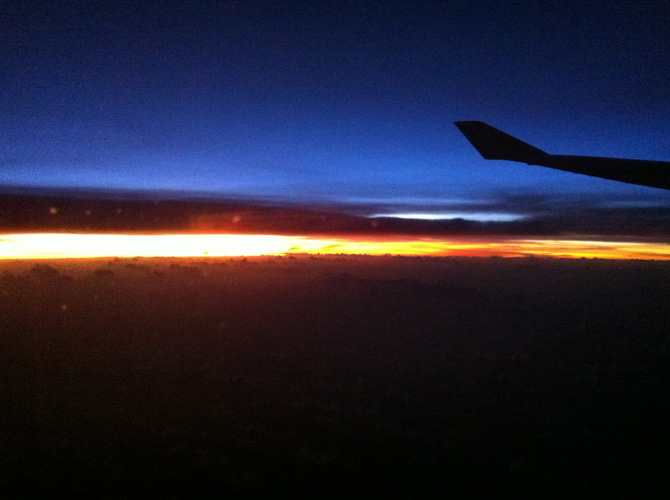 Pacific sunrise four hours to go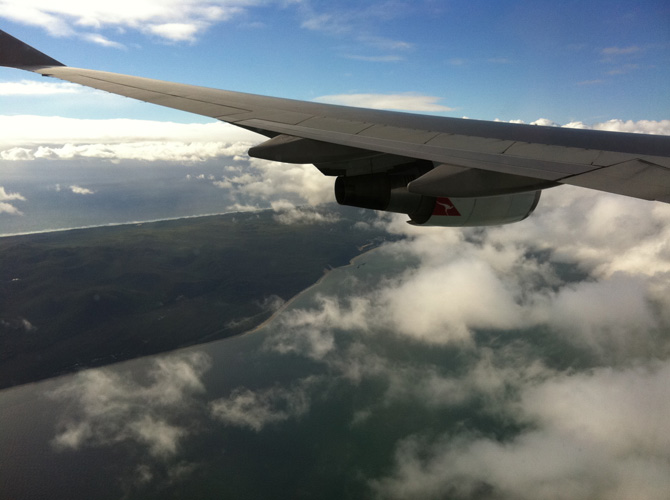 Yes about to land in Brisbane. Rihanna was on our flight.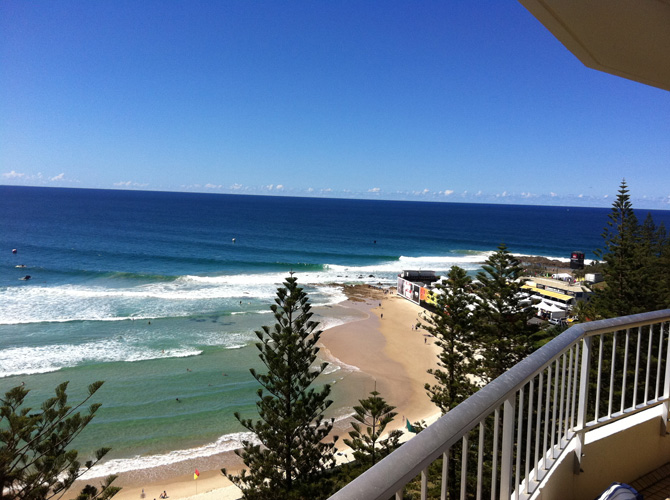 Snapper doing it's thing. Not a bad view.
---
Cruising With Cory
---

Competition stress was out of the question during the O'Neill Close Encounter event in Morocco. The main message from the local heroes (from seven European countries) and global team riders Cory Lopez, Mark Mathews and Shaun Cansdell was: "Surf your brains out and have fun together!" All the ingredients of the perfect surf trip were there: sunny skies, waves all day every day on empty spots, a beautiful place to stay and the best crew to hang out with. This unique film and photo project produced some amazing footage. Let the images speak, check out these epic clips!
O'Neill - Close Encounter 2011 from O'Neill on Vimeo.
---
LAST DAY IS BRAZIL
I head down next to the rock for one last try. It's a hail Mary on the biggest wave of the heat. I crash and burn again as the wave was way to gnarly. Yea, so we both (Nat Young & I) lose in round two. Not exactly how we envisioned the comp going. Losing is always hard, it sucks. We collect our measly prize money and I head off to the local watering hole to drown my sorrows with a few friends. We surf a few more times the next couple rain filled days. And home we head where I look forward to my 36 hours at home with my wife and kids before heading to Aus for the Snapper event. Can't wait it's been a while since my last WT event.
---
BRAZIL DAY FIVE
Day five, comp day three. I'm writing this from the plane on my way home to Daytona. This is the day Nat and I have our heat together. We are heat three of the second round. When we arrive at the beach the tide is low but on the way up so I am expecting the comp to start in one hour. Nat and I head straight out for a warm up. The waves are fun, kind-a closed out from the low tide but the ones you could make were sick. Real heavy drops straight into the tube. It turned out to be the best session of my trip. OK - now to our heat. Horn blows, heat starts. Nat scores a nice tube getting a 5 point something; which is hard to do with all the closeouts. Next, Cameron the shrimp gets a five. Then Kai gets a six. This whole time I have nothing. Just a few wipeouts/closeouts. Now Kai grabs another nice wave as does Cameron. Nat and I are in trouble. Then I find a nice wave that I miss-read and do not make the tube (my chance to make-up some ground). A minute later I find a really heavy wave that I can't make the drop and break my board on. It's my high score - "a three". Now I need a 7.9 and Nat needs a 5. He could not buy a wave after his first one and down he goes, as do I.
-Cory
---
BRAZIL DAY FOUR
Contest 'day-two'
With the swell down a few feet, but still solid, the comp got off to a swift start at 12:30.  The waves were really fun in the free surf before the comp. Thick tubes and decent waves to do turns on, it was setting up to be a nice day of competition. Eric would be the only one of us to surf a heat today, as the late start would only allow them to run to heat 20 of the 24 first round heats. Nat came to the beach only able to watch, because with only one board left he really had no choice but to save it for his next heat. I on the other hand came with six boards and at this point still have five remaining. With no heat for me today I surfed the contest site before it started with Eric and then elected to paddle down the beach to shoot some water photos with Frienden.  Eric had heat 10, the second heat of the day.  I was surfing down the beach during his heat and missed the action, but this is what Nat and Eric told me of the heat. He started his by sitting for the first ten minutes, then when he finally did catch a wave it had no scoring potential and he got around a two point ride. From what I gathered the rest of the heat went more or less the same way. With Eric not finding a single good wave. He was disappointed to find the horn blow with him in fourth place only needing  a four point ride to advance. I was still free surfing when Eric paddled down to get some frustration out. As soon as I saw him I could tell he was pissed. We surfed a little longer before heading in for a late lunch. With some nice waves still on hand we decided to surf again once the comp finished. In this surf Eric was on fire landing a nice rodeo and getting blown out of a meaty tube.
Cory
---
DAY THREE
Contest 'day-one'
Another early start and off to the beach we go. The eight o'clock call got called till ten as the tide was too low for how big the waves were. After four or five calls later the comp finally gets rolling at roughly two o'clock. The waves were solid and challenging. Mental ones were coming in but they were hard to find especially in a 25 minute heat. Nat had heat six and was surfing first out of our group. He started his heat off with a flurry of wipeouts breaking another board on a massive air drop take down. Eric quickly gets him his last board and sacrifices a dry pair of shorts to get Nat his board as quick a possible. With no scores yet and eleven minutes to go Nat is in a tough spot. No worries though, as soon as he gets back out he grabs a nice little tube. It scores a 4.67 and that gets him back in the heat. A few minutes later he grabs a nice 8.0 barrel ride to seal the heat win. I was next to surf. Heat eight, the final heat of the day. Well my heat did not get off to good start.  My game plan was to open up riding a lot of waves trying to get some scores early. Yeah, I got the wave count up, but the scores were all low. The biggest was a three something. A nice wave that I pulled in the tube too high and had to air drop down and through the lip. Not what the judges like to see. At this point I am in third needing only a small score. With eight minuets to go I caught a nice wave with a quick tube and  a few little turns. It's a 5.1 and that puts me into second. No one finds a wave in the final minutes and the heat finishes with Timmy Reyes getting the win and I snuck in with a second to advance to the next round. As it turns out nat's awesome first and my super sick second lands us in the same heat. Eric meantime will be surfing tomorrow in heat 10. With the swell supposed to be dropping a little, I'm hopping to see the waves improve.
Cory
---
FERNANDO DE NORONHA, BRAZIL
Well, I haven't even been here two full days  and I can clearly tell you this with confidence-- this is the most expensive place I have ever been in all my many travels. Day one Nat young, Eric geiselman, and I get off the plane to to be met by world renowned Ponce Inlet photographer Pete Freiden. We threw our boards on our dune buggy and off to the hotel we went. A quick board unpack, a change into board shorts and we were off. But wait, the buggy had a flat tire, no problem put on the spare...no spare. So we Called a taxi to get us in the water asap. Everything was much better then as we were all in the taxi going surfing -- life is good again. But wait... now the taxi has a flat tire. After eventually flagging down yet another taxi, we were finally transported to the beach. Almost as soon as I set my eyes on the surf I witnessed Marco Polo ecstatically claiming a proper tube all the way to the beach. As you can imagine we were all out there in a flash. And yea it was as fun as it looked with all of us snagging a few nice tubes before dark came all too fast. All on all it was a good start to the trip and the best way I know  to cure an airplane hangover.

Day two
Well as soon as I woke up I noticed the wind was blowing but as to what direction that was a question I had no answer for. A quick breakfast and off we went to suss out the conditions.  At first look, my suspicion was confirmed-- the ocean was a mess. The wind had turned side onshore overnight  with rain squalls all around us. We looked around at the few spots on the island before paddling out at a nice little left. After about an hour I broke my board and was now set to shoot some surfing myself with Eric's go pro cam.  I nailed one nice clip of eric smashing the lip, then I filmed Nat breaking his first of two boards for the day-- leaving him with only two boards  for the next six days of suring thumping beach breaks. Pretty heavy for Nat. With another fun, but board costly day in the books it was off to grind some food and pass out. For tomorrow the contest is set to begin.
Cory

 
Presented by:
www.ONeill.com
www.LopezBrothers.com
www.NektonSurf.com
www.Gulfster.com